The Brown Sugar Edit: What We're Obsessed With This Month!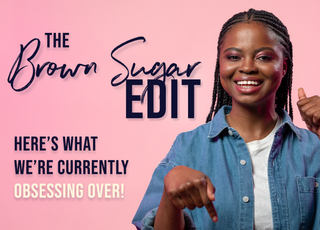 Apple Bottom Jeans or Baby Phat?! Tap into your "Black Girl Aesthetic" as you take the quiz to see where you fall on the fashion spectrum!
Get into this classic mix of 90s hip-hop and R&B that's an ode to the FLY girl days! We're talking about the bangers that had dancing all long and sweating your perm or press out!
Yes, sis! We had a WHOLE day off that nobody told us about! Check out #BlackGirlsDayOff
Dress up or down when it comes to our leggings?
They were made for FLY girls like you who love to have fun with their style!


It's the Effortless Slay for us! Brown Sugar Babe, Del, showing out her Warrior Empress Button Up Tunic Blouse! 
It's The Confidence and The Unbothered Slayage we can't get enough of!
Althea, serving up confidence with a sprinkle of Brown Sugar in her "Still I Rise" Issa Statement Mini Satchel. 
Last month's box was filled with products to style and profile in cuz the slayage is real!
Check out Brown Sugar Babe Dooney Addict 615, giving us an unboxing of the September 2022: Effortless Slay Edition of the Brown Sugar Box!
"Supreme Models" is on YouTube and all six episodes are out! See the documentary paying tribute to Black models of the past and present.
From the first to be featured in catalogs and on magazine covers: IMAN, Beverly Johnson, and Donyale Luna to reigning supermodels of the 90s: Tyra Banks and Naomi Campbell to the IT girls of today.
Black models have been influencing fashion and pop culture for decades, reshaping the standards and boundaries of beauty. Tune in to see part of our story being told!
It's the final season! How will the Bordelon family say goodbye? Things are surely heating up, is Charley going to make an appearance?