Wardrobe Refresh: 4 Trends to Try for Spring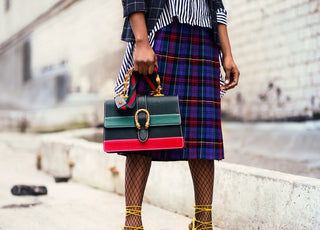 Spring is sprung and we are amped about the new 2019 spring trends. YASS! This season is going to be fabulous. What we are seeing for this season of new life is a lot of designs and styles from yesteryear that have been reimagined and repurposed. There are some oldies, but definitely goodies, that are making their way back on the couture catwalks and the urban runways. Can you hear the 90s hollering?
The good thing about the spring trends for 2019 is that the looks have a really fun feel to them. We are seeing meldings of different prints and colors that pretty much are steeped in self-expression. Now is the time to fully embrace these spirited clothes that promote uniqueness and the brilliance of the season's gutsy hues. These spring trends are not for the faint-at-heart, Honey.
Don't believe us? Check out these funky spring trends and get ready for some be-YOU-tiful looks!
Flashy, Neon Colors Are On Fleek
Nobody could see this spring trend coming! But, sista…neon is back! All the way back. You probably have some neon in the back of your closet somewhere. Truth be told, there are a few fashionistas out there who have been waiting for this resurgence, no doubt. Well, go ahead and pull your neon out. Or, go get you some new pieces to add to your fashion palette, because neon is hot!
Biker Shorts Are One Of The Hottest Spring Trends
These are not the biker shorts of times past. You probably had a flashback to "In Living Color" when you saw the words biker shorts. But, hold up, Sis. The new cycling or biker shorts are much more sophisticated and versatile. The biker shorts style for 2019 is less sporty. So, don't just think baggy tee-shirt and sneakers. Think shiny black biker shorts, black blazer, and funy booties. Today's biker shorts have been restyled to level up and as a result, the overall look gives an impression like that of a tighter miniskirt. But, maybe better because there is a less likely chance of a wardrobe malfunction. Only thing, ladies, we want to be mindful of panty lines, because those unsightly lines will surely destroy the aesthetic of this whole trend.
Feathers and Fringes
Get in on these spring trends before they fly away! Honey, feathers and fringes shall flow in abundance this season. From halter tops that feature funky and fluffy hems with this spring's favorite trimmings to skirts that are fringed out with the blingingest and flashiest materials. These spring trends definitely will be attention grabbers and give you the chance to really get your strut on.
Come Through, Crochet!
Aunties and grandmoms all over the planet are applauding the return of crocheted styles. You wanted a way to connect with the elder generation. Well, now, you have one! Get those special crafty ladies in your life creating some "just for you" designer pieces. This is one of those spring trends that we are actually happy to see coming our way!
Crochet can be both delicate looking and super complex because of those intricate patterns. The world of fashion is taking the crocheted look a step further and incorporating it into other pieces. So, you might have a pretty animal print skirt, but there may be crocheted pieces inset into the sides. Yes, we know that it's an unexpected combination, but, trust us, it works!
The spring trends of 2019 are bold, flaunty, yet they have a personalized touch to them. So, get working on your wardrobe for this warm season and don't leave off the vintage shops. Those 90s styles are ret for their sophisticated rebirth. It's a revival and a refresh for your wardrobe, girl!