How to Rock the Pastel Makeup Trend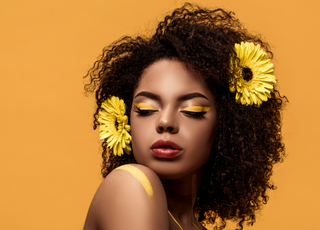 When it comes to the weather, millions of people are waiting for the cold, short days of winter to disappear. After we've have transformed to the warm, longer days, we are ready to revamp our lives. For many, this might start with spring cleaning, while others focus on their clothes. But us? We're focusing on the beauty aspect too! The fall and winter seasons are the perfect time for smoky eyes and vampy lips. As we travel through spring and prepare for the summer months, pastels are moving to the front of beauty. Before you start thinking that pastels might not work with your melanin-infused complexion, stop! Everything works with your skin! All you need to know is how to rock it! Check out our tips on how to rock the pastel makeup trend.
Don't Choose Too Many Colors At Once
When you wear regular tones of eyeshadow, you're probably able to finesse a look with tons of different colors on your eyes. This won't be so easy when dealing with pastel colors! These colors are made to stand out, so using too many could transform your look from chic to circus in a few swipes! For an easy, effortless look, you should plan to use three colors on your eyes. One should be a transition color and the other two can be used to create your look. For perfect pairs, you could go with purple and pink, green and blue, and red and yellow.
If you want to splurge on an eyeshadow palette, go with the Natasha Denona Tropic Palette which includes 15 shades. For those trying to save a buck, like us, the LORAC Beauties Who Brunch Palette is a great alternative with 16 shades.
Use an Eyeshadow Primer
For eyeshadow wearers, you might notice that colors don't always appear on your eyes as they do in a palette. This would definitely be the case with pastel eyeshadows. Since pastels are a "milky" form of the true color, it could potentially appear ashy when applied to your skin. To avoid this, apply an eyeshadow primer before application. It will allow your eyeshadows to pop!
Don't Go Crazy With the Lip
If you plan to wear a pastel look on your eyes, don't get carried away with the lip! Opting for a nude lip will help balance out your look. If you'd prefer to indulge in the pastel trend on your lips, pair it with neutral or minimal eyeshadow.
With the recent launch of Fenty Beauty's Mattmoiselle Lipsticks, there's definitely a growing trend for pastel lipsticks. The collection includes lilac and periwinkle blue shades. While these shades look beautiful, they work best when paired with neutral eyes.
Pastels can often be tricky to work with. While they have the ability to pop on your eyes, they can easily go wrong! And if you're afraid to rock pastel colors on your lip, pair them with a slightly darker lip liner to make it blend seamlessly into your look!
Makeup is meant to be fun, but the first step is wearing it with confidence! Don't let everyone else indulge in the pastel trend! Find your colors and make it work.