Paying Homage to 90's Lemonade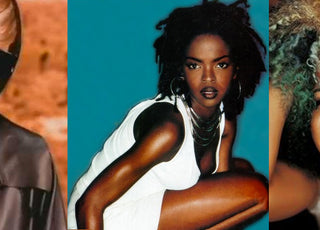 It's been a few weeks since Queen Bey made us cancel all of our Saturday night plans and watch what will go down in history as an ode to black girl magic, womanhood, love, infidelity and forgiveness with her controversial visual album Lemonade. Now that things have calmed down a bit we got to thinking about some of the the artists that have been giving us songs of heartbreak, pain, and the feels that come with love over the past few decades. You know the ones. The grab a glass of wine and a brush (because you need a mic right?) and sing your woes away tunes. The Lemonades of our past.
"Not Gon Cry" – Mary J Blige.
Mary has been dropping heartache ballads for years but "I'm not gon cry, I'm not gon cry, I'm not gon shed no tears?" Ma'am. This was the song that let us know that we can be strong through the heartbreak, especially when we've done all we've done all we can in our relationship. You can consider this a slightly less cocky version of "Sorry" when Bey let us know she was gonna be alright and was actually not that sorry at all *sips tea*.
"Caught Out There" – Kelis.
The song that had us screaming in our cars Ahhhhh!!! Yes, Kelis came out swinging and let you know exactly where you stood in her eyes. In just the first couple lines we learned this song was about to go hard for the women who've been slighted. We caught all kinds of Kelis vibes in "Don't Hurt Yourself", the um, rated R version of Kelis 1999 hit.

"Ex-Factor" – Lauryn Hill. I think we all can relate to the pain our girl Lauryn sang about with the heartfelt ballad Ex-Factor. It took us through the real life emotions you feel when you're in one of those life changing relationships "See no one's hurt me more than you…and no one ever will" Le sigh…yes girl we get it. We get those same feelings in "Love Drought" with the verse "But you're my lifeline, think you tryna kill me". Whew. We need a moment.

 
"I Can Love You" – Mary J. Blige. Yes, Mary has made it onto our list twice but you can you blame us? I Can Love You was the song that showed both the vulnerability and confidence of a woman in a relationship where she felt slighted, under-appreciated, and unvalued. With lyrics like "Who gonna love you I do?" and "Wondering why you don't love me" you can feel the turmoil going on inside. Kinda like Bey walking down the street with that baseball bat (Hot Sauce) and letting "him" know "They don't love you like I love you."

What other songs do you think should be on this list?