Juneteenth Staff Favorites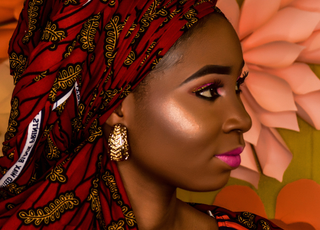 "Y'all have any Juneteenth Tees?" We get asked this question often, this time of year! Girl! Don't you know that our ENTIRE site is a Juneteenth celebration all day, every day? Izzy & Liv is Black girl magic personified! Our tees and apparel represent the culture while making a statement. Our stationery and accessories feature melanated artwork so beautiful we want you to display it. Our kids items show your kids they matter and reaffirm just how beautiful their Blackness is.

Whether you're planning a celebration with family and friends, reppin' the culture at work, or decorating your space, we've got you covered. We asked our team to share their favorite products with you. Our team has collectively selected their favorite Juneteenth items to share with you!
Tribal Queen Vibrance Versatile Wrap Skirt - Nicole's Fav
"Our wrap skirts are one of my favorites because they're bold and beautifully designed with prints that celebrate our culture, confidence, and soul. I love how versatile they are - you can style them in countless ways such as a skirt, a dress, a wrap skirt, and more."
Afro Chic 3 Pack Sock Set - Brittney's Fav
"I love funky/patterns and prints, and our socks always deliver!"
 Africa Camo Dreams Satin Headwrap - Nia's Fav
"I feel most free when I feel good about my hair, and silk scarves allow for so much versatility for my crown!"  
Sophisticated, Educated, Melanated Varsity T-shirt - Gabriela's Fav
"I see Juneteenth as a celebration of freedom and true independence. With education as a front runner, our Sophisticated Educated Melanated T-shirt shows just that."  
Must Be The Melanin Tee - Pooja's Fav
"I love our Must Be The Melanin Tee because it celebrates melanin."  
Black Girl Power T-shirt - Racquel's Fav
"The strength of a Black woman is unmatched, and this t-shirt showcases all the power we hold and then some!"  
Culture Confidence Soul Versatile Wrap Skirt - Kendall's Fav
"I love our wrap skirts because you can represent American and International culture simultaneously." 

Adinkra Affirmations V-neck Pocket Tee - Jasmina's Fav
"I love Adinkra symbols and their meanings. I have an Adinkra symbol tattoo and that's the tee that resonated with me." 
Black Royalty Coasters Set of 4 - Shaina's Fav
"Love this set because the designs are super cute and they represent the royalty all women are while protecting my table in the process!"
African Seed Bead Drop Earrings (3 Colors) - Mal's Fav
 "I love our African Seed Bead Drop Earrings because they're lightweight and stylish at the same time. The bold colors pop on any skin tone and elevate any look, effortlessly." 
Slay Sis Paint by Numbers Set - Tasha's Fav
"As an artist, I love to paint, and this paint by numbers set is so relaxing and fun! Black women are art!"
The Izzy & Liv staff have spoken! Shop their favorites below to get ready for Juneteenth celebrations and represent the culture!