How To Wear Your Favorite Izzy & Liv Products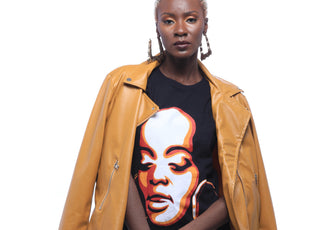 We at Izzy & Liv love our supporters. We love seeing you out there loving the products you purchase and how they put a huge smile on yourself. Most of all, we love seeing you all loving yourselves and supporting other women. That's what Izzy & Liv is all about, expressing yourself authentically while also relating to others. Here are a few ways how you ladies can wear your favorite Izzy & Liv products no matter where you decide to shine your light:
Superfly Retro Bling
We at Izzy & Liv are not afraid to show off a little bling. We offer a wide range of accessories from earrings to necklaces in some cutest designs that best represent every kind of woman. If the '70s is your flavor, you may like our "Fly Girl" gold earrings. Pair them with our "Fly Girl" tee and you'll be supa dupa fly!
2.) Say How Ya Really Feel! 
You know how much we love 90's and current black pop culture. So, of course, our t-shirts have to shout out the TV shows, films, and celebrities we love to love! Are you a fan of Marvel's Black Panther (2018)? Show off your geeky side with our famous "If Lost, Return Me to Wakanda" tee. Wear this shirt with your favorite boyfriend jeans and represent Marvel's most powerful land in the world. "Wakanda Forever!"
3.) Be Proud of Your Culture 
If you are a woman always on the go, don't forget to leave the house with your favorite Izzy & Liv stylish tote bag. Other than loving 90s pop culture, our totes are designed to show off the beauty of our culture and the essence of the black woman. Whether you are going to the grocery store or the gym, transport your stuff with style and class. We at Izzy & Liv love our music like hip hop, soulful jazz, and smooth R&B. Flaunt your favorite genre with our  "Peace, Love & Hip-Hop" or "Rhythm & Blues" tote bag. Maybe bring one with you to the upcoming Essence Music Festival? You know we'll be there!  
4.) Taking Care of Your Hair Izzy & Liv Style
For us black women, taking care of our hair is a big deal. Regardless if your hair is relaxed, pressed, or in its natural state, sheltering our strands is a must if you want your hair to thrive in the long run. Give your hair a break with our trendy Ankara Print Headwrap. These beautiful wraps are perfect if you are going out too. Play around with different types of turban styles. Not only will your edges be in good care, but you'll also be looking a vibrant African Queen.
We love our customers! We also love to hear how you guys love to wear our products. Which ones are your favorite and why? Tell us in the comments below.