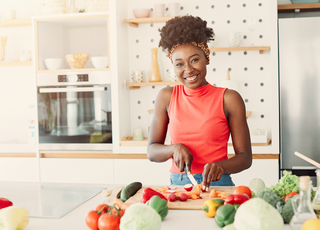 By Saeeda Ruffin
When it comes to food, you know we like our eats to have flava. Our internet Auntie, Tabitha Brown along with many other vegan cooks are showing us how to fix some banging vegan dishes. The key to amazing vegan food is having the right flavors up in there. Now, we're going to spill all the secrets to level up your vegan dishes and make sure they're always giving flava!
Get Spicy
Spices add depth to your food. Whether you opt for just a hint of spice,or you want to bring on the hotness, your vegan food will take those spices and offer up all the taste! These common spices give vegan food the heat: Spicy Adobo seasoning, red pepper flakes, Slap Yo' Mama Cajun Seasoning, and any of the Tony Chachere Seasoning Blends. Sprinkle them on your vegan dishes and get ret for some serious spice!
Mix Fruit with Veggies
Most people only cook with fruit or vegetables, not both. To give vegan dishes that dash of pizazz, you've got to get some fruit in the mix! Your Cuttin' Up! 3 -Piece Knife Set is perfect for coring, dicing, and chopping fruits and veggies. To give a little sweetness to your vegan dish, consider using diced apples, peaches, tomatoes, lemon, lime, or orange zest, and dates! Yup, dates. They can take vegan food from zero to 100 with a quickness!
Don't Forget the Salt
There are several ways to add a bit of salty flavor to a dish without making salt the main attraction. Consider using sea salt, pink salt, salt alternatives, or a low-sodium version of soy or teriyaki sauce. Just make sure any sauces you add are vegan since many use anchovy paste. Check those labels, sis!
Of course, the ultimate ingredient to add to your food is love, and that comes from the heart. So, go on, suit up with your
The Secret Ingredient is Me T-shirt
and
Soul Food Queen Chef Bae Apron
and make them something to talk about!