Here's Your 90's "Get Ready For Work" Playlist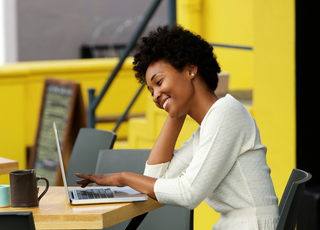 Whether you work the typical 9-5 in an office or you're a freelancer who loves the freedom of working from home, you can still find yourself not wanting to go to work on certain days. It happens to all of us. Maybe you have a sleep schedule that isn't the best. Maybe it's just lack of motivation. Either way, we have to get up and earn our money!
Music affects your mood and sometimes you just need that one song to kick your butt into gear. So in the spirit of the 90s, I have put together a quick playlist of 90s tracks to help you get ready for work.
1.)" Bills, Bill, Bills" by Destiny's Child (1999) – Bills aren't going to pay themselves! If there is one song you need to remind yourself why you need to go to work, it's this track. Look at it this way! No one wants to be that adult who is slacking off on their bills, racking up debt. This song will inspire you to get up, go to work, get yo' money and take care of yourself, especially all things financial.
2.) "I like to Move It" by Reel 2 Real (1994) – This electronic, hard to get out of your head, dance track is one that will always leave you smiling.  If you are a fan of the animated film Madagascar with Chris Rock and Jada Pinkett Smith, then this track can have you smiling with glee.
3.) "Pump Up The Jam" by Technotronics (1996)– If you are a fan of the live-action/animated sports film "Space Jam", you know this song! It is played during the scene where basketball legend Michael Jordan, Bugs Bunny, and the rest of the Looney Tunes gang get dress up in their basketball jerseys before they hit the court. The song itself is energizing. Play it before you get into the office you will feel prepared to take on your workday.
4.) "This Is How We Do It" by Montell Jordan (1995)– This song makes you feel like you are on top of everything. Feeling anxious about work drama? Deadline approaching? A group presentation coming up? Just know you got this.
5.) "Mo' Money Mo' Problems" by Notorious B.I.G (1997) – Not matter what career we choose, we are going to get haters. This song reminds me that people will come out trying to sabotage what you have, especially if they see you succeed. Forget them! Just do your thing and take the high road. No one has time for drama, in or out of the office.