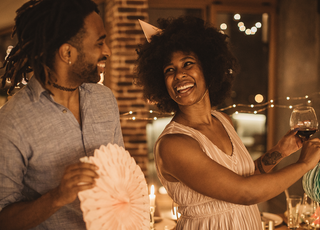 By Girl Tyler
The time is now to safely gather for small functions and dinner parties have become popular as an intimate way to reconnect and make up for lost time. Add a personal touch by sending out physical invitations or creating a promo video to get your guest pumped and in the spirit. Check out the list of dinner party themes for an unforgettable time.
1. Beyoncé looks: Your guests must wear their favorite Beyonce music video look.
2. Memes: The internet is undefeated. Invite the jokes into your home by asking everyone to dress up as their favorite meme. For an icebreaker, have your guests try to guess the meme, then vote on a winner.
3. Game day: Don't wait until the Superbowl! Host a dinner during a regular season game. This one makes for a kid-friendly event.
4. Casino Night: What happens in your living room STAYS in your living room!
5. Movie/TV Characters: Invite your guests to dress as their favorite character from a film or TV show.
6. Taco Tuesday: This one is strictly come as you are and prepare to throw down on as many tacos and margaritas as possible.
7. A Taste of Motown: An evening of 1960's Black Hollywood glam with lite bites and the sounds from Hitsville U.S.A.
8. Pajama Jam: Breakfast for dinner. Have your guests wear their jammies for an evening brunch.
9. Murder Mystery: Make up the rules ahead of time and assign each guest a character type. Explain the crime and have each person take a guess who the murderer is. Everyone is a suspect! The ultimate "Who Done It" experience.
10. Color-Coded Potluck: Invite your guests to wear a particular color and bring only food items, decor, and snacks to match. This theme is especially popular if you prefer to keep it small.