7 Natural Hair Products to Keep Your Curls Poppin' this Winter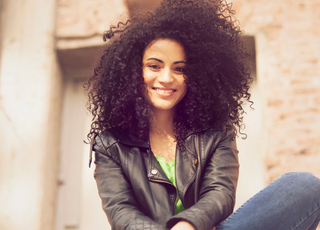 When the winter comes around, it seems like everything in nature shrivels up in the cold weather, but not our curls! Whether you're slaying loose curls or 4C hair, it's important that you let your hair thrive and survive the winter months! If you're looking for your hair to 'sleigh' the upcoming holidays and last through until March, check out our favorite natural hair products to keep those curls poppin' this winter!
Crème of Nature Moisturizing Shampoo & Conditioner
The most important thing in any hair care routine is making sure you shampoo and condition your hair! One of our favorite products is the Crème of Nature "Ultra-Moisturizing" Shampoos and Conditioners! We all know the cold air can make our hair extremely dry, so we have to balance that with our hair products. Most shampoos already dry out the hair, so picking one with moisturizing qualities is a must!
The Crème of Nature Ultra-Moisturizing Shampoo helps moisturize the hair while also helping to soften it. It works perfectly with the Crème of Nature Ultra-Moisturizing Conditioner, and when they both are scented with mango and shea butter, how can we say no?
AS I AM Coconut CoWash
As you very well may know, constantly shampooing our natural hair is a major faux pas. Often times washing our hair weekly isn't a possibility but, when we have product build up in our hair, it quickly becomes stiff and lacks the movement that we crave. The perfect way to get rid of this is with a co-wash. Rather than going through the entire shampoo and conditioning process, a co-wash will help strip your hair of the products and give you a fresh, clean base.
We love the AS I AM Coconut CoWash that works to cleanse your hair of all the product build up and have your hair looking and feeling clean and fresh. Not only will your curls smell fresh, but you won't have to empty your bank account either for this $9 product!
Shea Moisture Jamaican Black Castor Oil Hair Masque
Your hair can never be too strong! One product we definitely recommend for the winter is the Shea Moisture Jamaican Black Castor Oil Strengthen Grow & Restore Treatment Masque. While the product name sounds like an entire novel, so do the benefits that this product has! This product is meant to help prevent shedding, stop breakage, strengthen and promote hair growth. Castor oil is a major proponent in helping with hair growth. With other ingredients like shea butter, coconut oil, and peppermint leaf extract, you can be sure your hair will thank you this winter!
Eden Natural Curl Defining Creme
When it comes to our hair, we want our curls to thrive. Perfect to use after shampooing and conditioning, the Eden Natural Curl Defining Crème will help you smooth out and separate your curl. Not only will it help your curls, but it also helps to moisturize and help prevent frizz. If your hair needs a little help and it's not a wash day, this product can also be used on dry hair!
Shea Moisture 100% Argan Oil
We've all probably dealt with hair that isn't dry but looks dry. We're all looking for that natural luster and you can definitely get it in the winter on the cloudiest days. This winter, we'll be using the Shea Moisture 100% Pure Argan Oil. All you need is a few pumps to gently massage through the hair and instantly you'll smooth out any frizz and add a beautiful sheen to your curls.
AS I AM Twist Defining Cream
When we're trying to make sure our curls are popping, one of our favorite styles is the twist-out! The quality of the end result is equal parts the quality of the twist and the quality of the product. This winter, we're 'doing the twist' with the AS I AM Twist Defining Cream. Not only will this product help moisturize the hair, but it'll help smoothen the strands to heighten the definition of each twist!
Although many natural hairstyles come alive in the warmer months, there's no reason our hair 'slayage' should have to change due to a drop in the temperature. This winter season, our curls will pop even if it's 32 degrees or 10 below zero, and with the help of these products, yours will too!
In the comments, let us know what products you use to keep your curls poppin' in the winter!