6 Ways To Manifest Your Best Summer Ever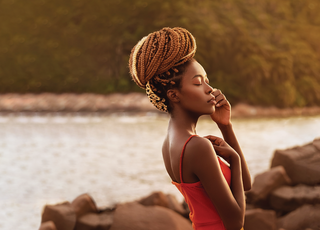 by Saeeda Ruffin
It's your season to get the most out of life, starting right here and right now! This summer could be the best summer ever and it begins with believing that you have the power within you to make it happen. Where do you start and how do you make your hopes and dreams for this summer become your reality?

Identify Your "What"
This is all about YOU. What is it that you want to accomplish or acquire? This is where you need to really get into figuring out exactly what would make you happy this summer. It could be a trip to an island or country that you've never visited before or learning how to do something that you've wanted to do forever. Decide what it is or what they are. Only you can do this for yourself!

Be Intentional About Your Expectations
Try not to let your desires be fleeting thoughts. If you REALLY want to do something or get something, go for it! Some of us may do everything that we can to fulfill the expectations of others in our homes and our relationships. Well, not this time! Commit to fulfilling your OWN expectations.

Be Specific
It may seem basic, but when you want to manifest something into existence, it requires you to be very specific and focused. When you are loose with your ideas, you could potentially not get EXACTLY what you want because you might be willing to accept any old thing that seems close. Nah, sis, that ain't manifesting. Get all the way into it and home in on what's for you!

Speak It and Believe It
So, this is where it gets real. Speak what you want into existence and then, BELIEVE that you can have it. For this summer, if it's your summer of health or, even your summer of wealth, SAY IT aloud. Whether you want to buy a car or get out of the country for the first time, you must know that you CAN have it. You can pray about it. Meditate on it. Write it down and place it where you can be constantly reminded. Put it into the universe!

Determine Your How
Well, sis, it ain't as easy as "just" letting fate have its way. Nope. You still have to do things to work toward your goals. It doesn't matter how large or even small you perceive those goals to be, you should come up with a plan for HOW you can get what you want. Then...DO IT!

Expect, Express, and Exhort
When you get EXACTLY what you expected, be sure to take time to reflect on how you were able to turn those hopes and dreams into real-life moments and accomplishments. Express gratitude to the max! From taking that first cruise or making your bikini debut, it doesn't matter what others think about what you wanted. The only thing that matters is that you MANIFESTED it into existence, and you can now tell others about your great personal victory! You got it! You did it, and nobody can change that. So, EXHORT, sis! Tell folks so that they, too, would believe that anything is possible. Then, not only will you have manifested the BEST SUMMER EVER, but you also now have the keys to manifesting the best life, too.