5 Things You Should Have in Your Makeup Bag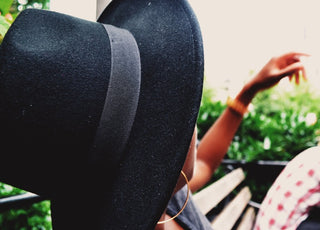 You head into work with a cute outfit and simple makeup. Your day is going perfect and then boom… You have a random lunch meeting you weren't expecting at all or, your girl texts you that you're heading to happy hour or worse, you forget you had a date for drinks with the guy you've been texting the past couple weeks. You looked cute today but nowhere near ready to head out and mingle with new people. Sound familiar? Listen, we've all been there.
The good news is, this doesn't have to be a case of emergency if you have a makeup bag tossed in your purse ready for such occasions. Filled with a few items to refresh your face, upgrade simple makeup, or take a look from day to night with ease. Here's 5 things that should be in your makeup bag at all times:
A Bold Lipstick – One of the easiest ways to transform your look is by switching up your lipstick. A quick swap from your favorite nude to a bold red is the perfect pop of color without taking too much time or work. I always keep a few bold lipsticks ready to go in varying shades whenever I need to add a little boost to my look.

Concealer – Never leave home without a little concealer. Whether your makeup fades after a long day or you need a little extra to cover those dark circles that have formed since the time you left home this morning, concealer is a definite makeup bag essential. If you can find a small concealer palette with a concealing and highlighting shades, even better.

Brow Pencil – Ever since the entire world has become obsessed with brows, we can all agree that when your brows are right, it's an instant improvement to your look. If nothing else, always have a good brow pencil with you to help spruce up and fill in sparse brows.

Mascara – Another item that I consider to be a non-negotiable when it comes to keeping my makeup bag stocked is mascara. The difference a coat of

good

mascara is incredible. I always invest in a pricier brand's travel size version for my makeup bag.

Makeup Remover Wipes – Sometimes, you really just need to start over when it comes to your makeup and that's fine. That's why you should never leave home without some good makeup wipes. Try to stick with ones that are full of moisturizing ingredients and individually wrapped.
Feeling like you have room for more? Honorable mentions: Multi-tasking palette for eyes and cheeks, pressed powder, eyeliner, and bronzer.