Fall Fashion Inspired By Hilary Banks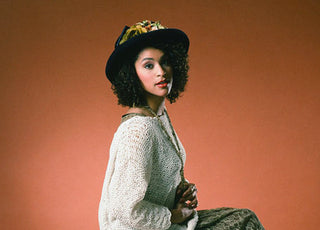 Love her or hate her, Fresh Prince of Bel Air's Hilary Banks was one of the 90's ultimate pop culture fashionistas. The Bel-Air beauty knew how to dress for just about any occasion and mastered the art of wearing the most luxurious of brands while keeping it classy and chic. And her signature style was topped off with the hilariously self-centered attitude we adored her for. If you're looking to add a little 90's fall style to your closet this season, Hilary Banks' would be the best place to start looking. Here are a few fashion looks you can try that are  inspired by Ms. Banks.
1. Bowler Hats
Banks is known for wearing big (and small!) hats to match her outfits. A bowler hat is a cute accessory to have in the fall. Like Hillary, you can go bold with any color or wear a black bowler with a splash of color on it.
2. Color Blocking
Now, this may seem a bit too 80s for some people but wearing a color-blocking outfit is perfect for fall, especially for vintage lovers. If you don't want to wear bold colors, you can tone it down with cooler tones such as pale pinks, blues or any neutral.  And yes, you can leave out the shoulder pads!
3. A Blazer
Hilary rarely went outside without a blazer, as she usually wears suits. But a blazer can go with anything, even a skirt which transforms your look from business to casual in a second. It's great for the cooler weather too.
4. Gold Accessories
Nothing completes an outfit like a statement piece and Hilary knew this best. Her biggest fashion statement was a standout piece of jewelry. If you feel like your outfit is missing something, slap on some big gold earrings, a bracelet, or brooch to add a bit of  "wow" to your look.
5. V Neck Dresses
Sleeveless or long-sleeved, Hilary knew how to style many dresses with a plunging neckline. Nothing too risque, however. Balancing class and sex appeal was her specialty. These dresses make great choices for a cozy date night with your beau or a night out with your girlfriends.
6. Big Long-Sleeve Sweaters with Maxi Skirts (or Leggings!) 
In the show's earliest seasons, Hilary wore long maxi skirts with long sweaters. Consider it classic Hilary but with a touch of bohemian flair. If skirts aren't your thing, try leggings instead. Whether your plans are to stay in or to take a stroll in the park, this outfit is great for fall.