Top 3 Makeup Products for Sunkissed Skin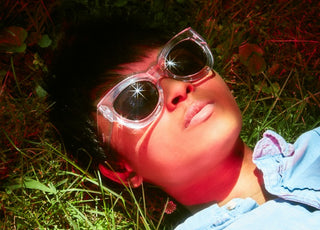 Our beautiful, melanin-infused skin is always popping, especially in the summer, but did you know there are ways to make it pop even more? If the Sun alone isn't giving you enough bronzed goddess vibes or glowing skin, you can achieve it with a few select products, and here are some of our favorites!
Facial Bronzer
A little more color never hurt anyone! If the sun hasn't given you all the depth and "bronziness" that you're looking for, all you need to do is invest in some bronzer! Choose a color that is 1-2 shades darker than you skin and focus the color on the perimeter of your face. Bronze up your forehead by staying near your hairline and bring it along the sides of your face. Hit the hollows of your cheek for a sun-kissed look, but it'll also lift your cheekbones and give you a chiseled look!
One of our favorite facial bronzers is the Too Faced Dark Chocolate Soleil Matte Bronzer that comes in a kit equipped for multiple skin tones!
Body Bronzer
When it comes to creating that perfect glowy and sun-kissed look, you can't always leave it to your face to shine through! If you're wearing shorts or a dress that shows off your décolletage, body bronzer will become your new best friend! Not only will it seem as if you got the perfect amount of sun, but it'll give your body a beautiful glow. Instead of going with a powder like you would for your face, body bronzer is as easy as applying your lotion. Quick tip: Apply your body bronzers quickly because once they set, they're not moving!
If you're browsing through Sephora, one of our favorites is the Benefit Hoola Body Bronzer. Many of us are always trying to save a buck, so if you're leaning towards the drugstore side, check out the Maybelline Master Strobing Liquid in Medium – Nude Gold or Deep – Gold.
Highlighter
While facial bronzer will give you that sun-kissed look, you might be trying to glow from within. In order to achieve that with your makeup products, you'll need a highlighter! When applying highlighter, the trick is to apply it to all the high points of your face. Using this trick will allow the sun to bounce off of these spots and give you the perfect glow. Be sure to highlight above your brow bone and the high points of your cheeks. For an extra glow, you can highlight the bridge and point of your nose and even your cupid's bow. Watch out for the latter because you might come out looking like you have a milk mustache!
Some of our favorite facial highlighters are TheBalm Betty-Lou Manizer, but if you're headed to the drugstore, check out the Milani Golden Light highlighter!
There's no reason you shouldn't be glowing this summer, and with these products, you'll definitely be a bronzed goddess! Comment and let us know how you keep your skin glowing in the summertime!