Highlights from Jesse Williams' BET Awards Speech and How to Join the Movement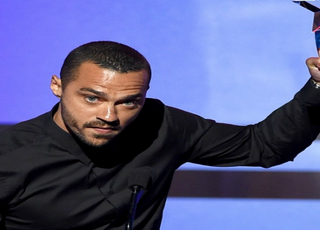 On Sunday, June 26, the 2016 BET Awards made it a night to remember. Although the event was filled by moving Prince tributes and a powerful performance by Beyonce and Kendrick Lamar, Jesse Williams stole the show.
Most might recognize Jesse Williams from his role as Dr. Jackson Avery from Shonda Rhimes' hit show Grey's Anatomy, but Williams has often put down his acting belt for his activist belt. Jesse Williams uses his platform as a means to highlight racial injustices and police brutality, and he captivated the audience and millions of viewers with his acceptance speech for the BET Humanitarian Award.
Here are a few highlights from his speech delivered Sunday:
"This award, this is not for me. This is for the real organizers all over the country – the activists, the civil rights attorneys, the struggling parents, the families, the teachers, the students – that are realizing that a system built to divide and impoverish and destroy us cannot stand if we do."
Jesse Williams starts off his speech by dedicating his award to those who continue to fight for equal rights as well as those who suffer from our lack of equality. He also emphasizes that the systematic oppression of the black people in this country cannot last when we rise to change it.
"Now this is also in particular for the black women, in particular, who have spent their lifetimes dedicated to nurturing everyone before themselves. We can and will do better for you."
Williams takes time in the beginning of his speech to also dedicate his award to the black women who have nurtured and encouraged the majority of the black population, often times putting the needs of their children and families before their own.
"We know that police somehow manage to de-escalate, disarm, and not kill white people every day. So what's going to happen is we are going to have equal rights and justice in our own country or we will restructure their function in ours."
In his speech, Jesse Williams also focuses on police brutality. In the recent years, we have seen violence escalate with the murders of Mike Brown and Eric Garner, and Williams calls to question the anomaly that police have somehow managed to secure situations involving white people without fatalities while situations involving blacks often end in a death.
Jesse Williams then emphasizes that we'll either find a way for equal rights and justice for all people in this country or we will restructure and rearrange them to work for black people.
"Tell Rekia Boyd how it's so much better to live in 2012 than it is to live in 1612 or 1712. Tell that to Eric Garner. Tell that to Sandra Bland. Tell that to Darrien Hunt."
We're constantly hearing that the world has made so much progress, yet Jesse Williams focuses on the point that what progress has been made is not nearly enough. There wouldn't be this senseless killing of black people in today's time. We have all heard of the high-profile killings of Eric Garner and Sandra Bland. Williams uses his platform to mention cases like Rekia Boyd and Darrien Hunt.
Rekia Boyd was a 22-year old woman who was fatally shot in the back of the head by off-duty Chicago police detective, Dante Servin. Servin later claimed that he mistook a cell phone for a gun. He was charged with involuntary manslaughter but was cleared of all charges.
Darrien Hunt was also 22 years old when he was killed by the police in Saratoga Springs, Utah. Hunt was walking along the sidewalk outside a convenience store with a samurai sword in his left hand. In the surveillance video, it shows a woman walking just a few feet behind him, and shortly thereafter a police officer pacing after him. Later in another surveillance video, you can see Hunt running at full speed while cops open fire against  him.
The point that Williams is trying to make is that if it is so much better to live in 2012 than 1612, why are black people still being unlawfully murdered?
"Now dedicating our lives, dedicating our lives to getting money just to give it right back for someone's brand on our body, when we spent centuries praying with brands on our bodies, and now we pray to get paid for brands on our bodies."
Williams uses this line to show everyone how much things have changed. In today's society, we're constantly looking for money so we can afford to put higher end brands on our backs, but he brings to light that for centuries, slaves were praying for freedom and salvation from cruel brands stamped onto their bodies.
"If you have no interest in equal rights for black people then do not make suggestions to those who do."
For those fighting for equal rights, they have a long and difficult battle to go. They are constantly facing the opinions of those who have no interest or care in black rights or what happens to black people. Williams takes this time to silence those who don't care for the rights of black people but still choose to have their thoughts and opinions known on the matter.
"Just because we're magic doesn't mean we're not real."
We are always proud to claim our magic with phrases like "Black Girl Magic" or "Black Don't Crack." At the end of his speech, Jesse Williams acknowledges that although we are magic, that does not mean that black people are not real. We are real people that need real rights.
Although it is great to acknowledge the number of great things Jesse Williams said in his BET Awards speech, his motive was to inspire and invoke some change. If you've been inspired and are looking for ways to get involved in the movement towards equal rights to prove that Black Lives Matter, check out the organizations below.
The Advancement Project: "Advancement Project is a next generation, multi-racial civil rights organization. Rooted in the great human rights struggles for equality and justice, we exist to fulfill America's promise of a caring, inclusive and just democracy. We use innovative tools and strategies to strengthen social movements and achieve high impact policy change."
Black Lives Matter: "Black Lives Matter is a chapter-based national organization working for the validity of Black life. We are working to (re)build the Black liberation movement."
Black Youth Project 100: "BYP 100 is an activist member-based organization of Black 18-35 year olds, dedicated to creating justice and freedom for all Black people. We do this through building a collective focused on transformative leadership development, direct action organizing, advocacy and education."