ESPY's Recap: Awards, Tributes, and a Powerful Message from four NBA Players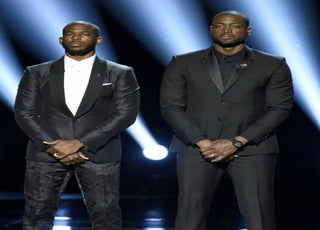 THE OPENING
The show opened with an inspiring message from Lebron James, Dwayne Wade, Carmelo Anthony, and Chris Paul urging their fellow athletes not to ignore the current state of America. They pleaded with them to use their influence to affect change in this country. This powerful message set the tone for the entire awards show which ended with an effortless performance by Chance The Rapper paying tribute to Muhammad Ali.
In this moment of celebration, we asked to start the show tonight this way, the four of us talking to our fellow athletes with the country watching. Because we cannot ignore the realities of the current state of America.
-Carmelo Anthony
THE AWARDS
Lebron James and the Cleveland Cavaliers cleaned up last night winning awards for Best Male Athlete, Best Championship Performance, Best NBA Athlete, Best Team, and Best Moment. They deserved all the praise for their exceptional showcase of athleticism, but the real heartfelt stories of the ESPY's go to Eric Berry and Zaevion Dobson.
Best Comeback Athlete- Eric Berry
(Photo credit:Kansascity.com)
I'm not accepting this award for me, I'm accepting it for all the fighters out there.
Eric Berry was diagnosed with cancer in November of 2014, and his NFL career was immediately put on hold. He fought hard to battle back from his illness and was reinstated just 8 months later. His triumph reminds us to always keep fighting for what we want.
Zenobia Dobson and her Plea to End Gun Violence
(Photo: Kevin Winter, Getty Images)
We as a country need to take a stand to consider the effects of gun violence on families throughout America
Zenobia Dobson and her two sons Zackelyn and Markastin accepted the Arthur Ashe Award for Courage on behalf of their son and brother Zaevion Dobson, who heroically saved the lives of two girls on December 17, 2015. Dobson lost his life shielding these two young women from gunfire. A selfless act of true courage and one that most of us would be too afraid to take. You can not hear this story and not be touched by the message. Gun violence is one of the many issues plaguing our communities and Zenobia used her acceptance speech as a call to action, urging everyone to join in addressing gun violence in America. She added another powerful message to the smell of activism already in the air.
More awards continued to go out to more deserving athletes and individuals, not to mention the Icon Awards which honored Kobe Bryant, Peyton Manning, and Abby Wambach. However, the ESPY's really shined with their soulful tributes.
THE TRIBUTES
Andra Day Pays Homage to This Years Fallen Athletes
She was captivating and soulful as she sang Rearview in honoring greats such as Muhammad Ali, Pat Summitt and more. Her performance was magical but it was Chance The Rapper's closing performance that really made the show.
Chance The Rapper Pays Homage to Muhammad Ali
Chance The Rapper took us to church with this one. His performance was emotional and his song was inspired. He truly set out to honor Ali in a way that completely captured his essence, and he did so triumphantly. Chance The Rapper really touched our hearts with his subtlety, gracing the stage in a black suit with only a mic, a montage and background singers.
The ESPY's was one to remember thanks to all those individuals who decided to take a stand and speak on the senseless violence plaguing our country. I feel like this was a message to all of us. Everyone is responsible for using their influence to affect change in the world.
What was your favorite part of the ESPY's 2016? Comment Below!