6 Black Beauty Gurus to Follow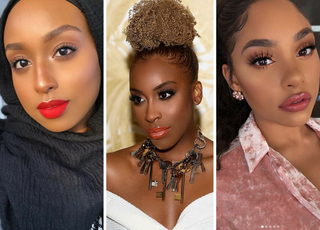 BLACK GIRLS ROCK. In the beauty industry, there's a clear imbalance when it comes to women of color. Tons of brands are coming out with 50 shades of beige and their one or two ideal shades for women of color. Beauty gurus are stepping out from everywhere to show that yes, the black population wears makeup and yes, we'd like to find our correct shade. For beauty and realness that travels from Instagram to Youtube, check out these 6 black beauty gurus to follow!
AYSHAHARUN
photo via Aysha Harun
Aysha is definitely a growing name in the beauty guru community! A young 22 year old, she is a first-generation Ethiopian woman living in Toronto. A proud Muslim, Aysha's page is a hub for makeup looks perfect for the Eid holiday. While she is a clear fan of neutral, bronzed looks, she likes to switch it up for her following with the occasional pop of color.
MONICASTYLEMUSE
photo via MonicaStyleMuse
Be your own muse! MonicaStyle Muse is a bold New Yorker who isn't afraid to be herself. An Afro-Latina, she drops some knowledge on the haters who always have something to say. She claims that she isn't a "professional," but her realness and relatability are what keeps her viewers coming back! If you also want to learn a little Spanish while she covers up those "manchas," she's a must have on your list! Vamos a comenzar!
ELLARIE
photo via Ellarie
If you're looking for fun and down-to-earth, Ellarie is a beauty guru who should be on your list! Not only does she have flawless skin, but she has that perfect Cupid's bow to match! If you're a fan of the indie brand, Colourpop, you've definitely heard of Ellarie. In 2014, she launched a lipstick with the brand. Just recently, she just released her latest collection with the brand that includes matte and satin lipsticks as well as lip glosses!
ITSMYRAYERAYE
photo via ItsMyRayeRaye
For those who are new to makeup, you probably need to follow someone like Raye Boyce. While she definitely has skills with a makeup brush, she makes her looks extremely easy to follow. Unafraid to make mistakes, she's okay with laughing at herself! She recently launched a makeup collection with BH Cosmetics, that includes 15 eyeshadows, six highlighters, and a collection of brushes.
MAKEUPSHAYLA
photo via MakeUpShayla
MakeUpShayla is beauty and realness delivered in one package! She gained a massive following through Instagram and that translated over to her Youtube channel. For a variety of makeup looks, battles between brands, and product reviews, you'd find everything you need. And if her face looks familiar, it's probably because you've seen her associated with Maybelline. In 2017, she collaborated with the brand on their Big Shot mascara.
JACKIEAINA
photo via JackieAina
Jackie, Jackie, Jackie, Jackie. If you want beauty, laughs, and a bit of shade throwing in one person, you need to follow Jackie Aina. She is unafraid to tell it like it is, but is always rooting for others to succeed. She showcases black owned brands as well as women owned brands. Hold on tight to those wigs because she's always ready to snatch them.
If you need some diversity on your Instagram timeline or in your Youtube subscriptions when it comes to beauty, definitely check out these 6 women we're following!