5 Times Michelle Obama Slayed Her Wardrobe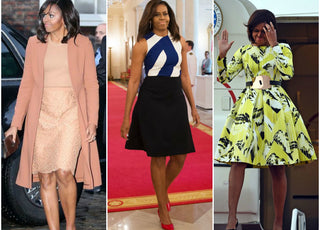 As November gets closer and closer, we can't stop looking back at the last 8 years and admiring our First Family. Whether it's the love, the politics, or–like we're discussing today–the fashion, the Obama's will seriously be missed. Since the end of JFK's term, it has been decades since we've seen a First Lady slay as much as Jackie O., until Michelle Obama, that is. The First Lady is not only intelligent and talented, but she has a killer wardrobe to match. Time and time again since 2008, Michelle Obama has proved that being the FLOTUS doesn't mean you have to blend into the background with dull suits. She has shined vibrantly through her personality and her wardrobe.
Monochromatically Rose
When it comes to mastering monochromatic looks, most people stay with the safe colors of white and black. FLOTUS took a chance with this monochromatic rose look and it definitely worked in her favor. She is seen here in a rose gold dress that features a solid top and a lace skirt that begins at the waist. She pairs the look with a darker toned rose trench and completes the look with tan flats.
Black, White, and Red All Over (with a dash of blue)
This look belongs in all newspapers as far as I'm concerned. This dress features a blue and white bodice with an intricate pattern while bringing attention to the narrow of her waist with the black skirt flaring out at the knees. Adding a sexy touch to this outfit, FLOTUS finishes the outfit with a pair of red pointy toe pumps.
Sexy & Sophisticated
At the 2016 State Dinner for the Canadian Prime Minister, Michelle Obama showed how effortless it was to be sexy and sophisticated. For the event, she wore a navy blue Jason Wu gown that featured embroidered details along its entirety. The dress featured a small band to emphasize her narrow waist while also including a tasteful slit that began around the knees.
Brightly Minded & Dressed
On a trip to Japan, FLOTUS stepped off the plane in this gorgeous Kenzo dress. Clearly loving the silhouette of a narrow waist, Michelle Obama is seen in another outfit that flares out at the knees. This mainly yellow dress features a high crew neck and long sleeves while being adorned with black and white patterns. She wears an oversized gold and black belt to further emphasize her waist and pairs it with black pumps.
Powered and Powdered in Blue
Blue is thought to be a power color, and Michelle Obama is definitely looking powerful in this powdered blue dress and jacket. Although the dress is great, it is easy to tell that the jacket is the star of the show. This jacket features a high neck and distinct linear patterns that adorn the front. It also features clasps up to the waist that once again cinch her waist and emphasize an hourglass figure.
Anyone with a computer would know how accomplished Michelle Obama is. Not only did she graduate with a B.A. from Princeton University, but she also went on to earn a Juris Doctor (J.D.) degree from Harvard Law School. She is known for her policies, especially her Let's Move! initiative which tackles childhood obesity. Throughout her time as FLOTUS, Michelle Obama has exemplified the true meaning of brains and beauty.