4 Reasons Why You Should Consider A Protective Style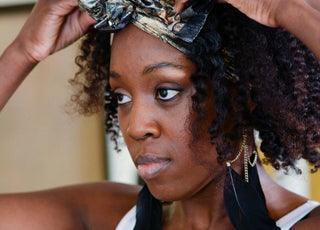 I'll be the first to admit; yes, I am a lazy natural. While I enjoy the breeze frolicking through my freshly washed kinks, I enjoy more the ease of having my strands tucked away and protected. If the simple fact that you'll save about two hundred plus hours of styling on your hair each week doesn't have you sold, here are a few more reasons you should consider a protective style.
Less Stress on Your Tresses
Did you know that you can actually damage your hair from over styling? Yes ladies, this is true. While it may be #hairgoals to have that perfect twist-out everyday, over manipulation of your hair can actually cause damage.
Versatility in Styling
The possibilities are nearly endless with your protective style. If you are rocking braids, twists, or even a vixen sew-in, you can wear it down, up in a top knot, create a red carpet worthy updo, or have it swept to the side in a braid. It's all about having fun and creating styles that you necessarily could not achieve with the length of your natural hair.
Length Retention
Frequenting protective styles will have your hair growth doing numbers! Watch the inches you'll retain from properly maintaining your protective style. The key to ensuring length retention while protective styling is making sure your scalp and ends are moisturized. A little moisturizing oil will go a long way.
Saves Time
Again, this is one of my favorite reasons to choose a protective style. I have no shame to admit it! There's so much to do and accomplish in our daily lives; why spend all of your time styling your hair? Now I would not recommend back to back protective styles. Allow your hair and scalp time to breathe in between installs. Also, do not push it with keeping them in too long. My suggestion would be 4-5 weeks maximum, depending on the style.
I came across a social media post where a woman had a sew-in weave for two years straight! The same weave. For. Two years. M'am, why? Do yourself a favor and switch it up in a reasonable amount of time or you'll risk your hair becoming a matted mess where the only solution is to have your hair go under the knife.
Share with us in the comments some of your favorite protective styles; we'd love to hear!