NOW ACCEPTING NEW SUBSCRIBERS! ACT FAST! YOUR FIRST BOX WILL BE THE NOVEMBER BOX!
Inside The Brown Sugar Box
take a peek at previous months boxes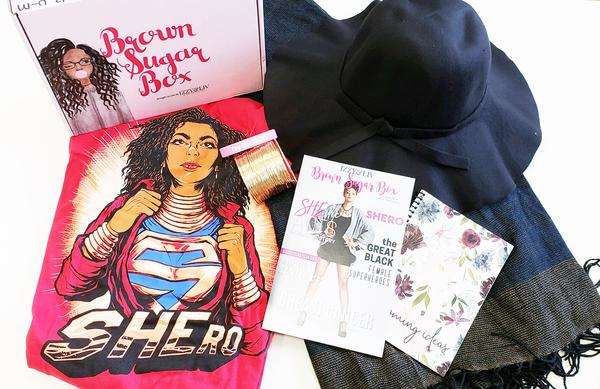 October 2018 Brown Sugar Box
"SHEro" Illustrated Tee
Floppy Hat (Assorted Colors)
Gold Wire Cuff
Cape (Assorted Colors)
Silicone Bracelet (Free gift)
Notebook (Free gift)
October 2018 Brown Sugar Box Mini-Magazine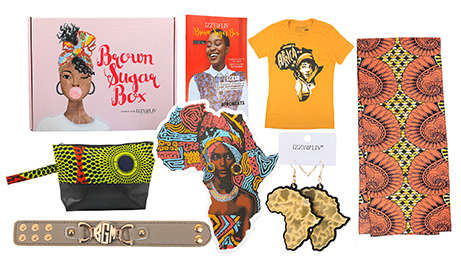 September 2018
Mother Africa Tee
Ankara Print Clutch
Headwrap
Black Girl Magic Cuff (assorted colors)
Africa Earrings
Magnet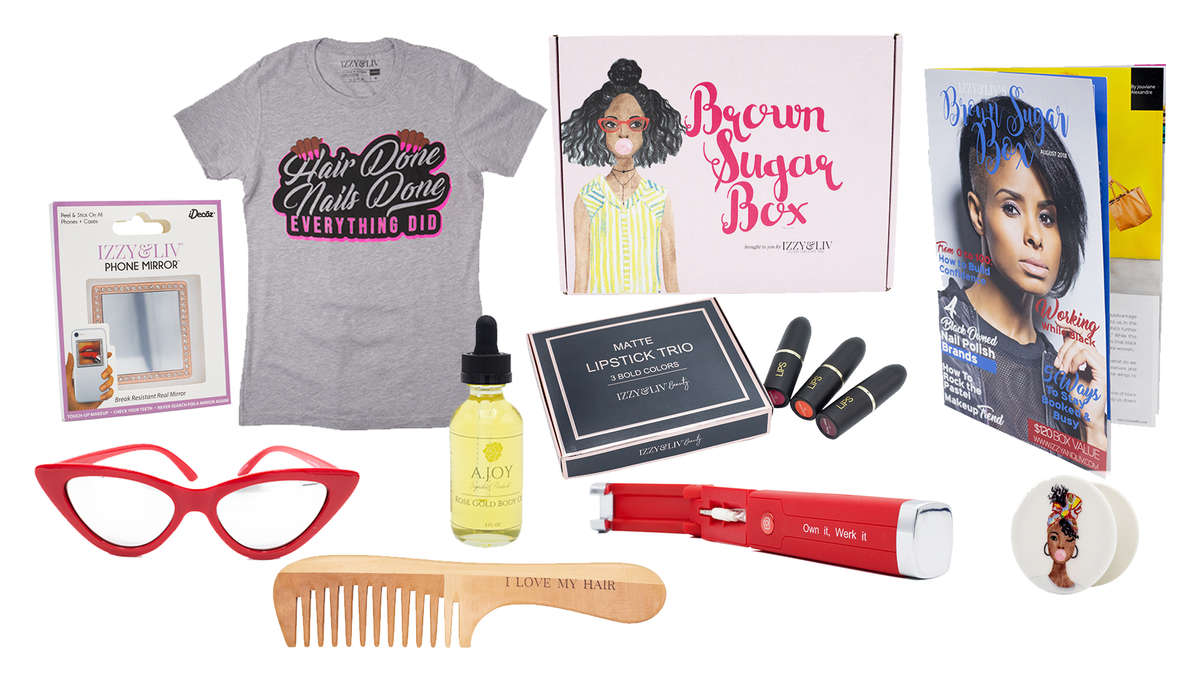 August 2018
Hair Done, Nails Done, Everything Did Tee
Cat Eye Sun Glassses (black shades or red mirrored)
Matte Lipstick Trio
A. Joy Signature Rose Gold Oil
Selfie Stick
I Love My Hair Wooden Comb
Phone Mirror
Pop Sockit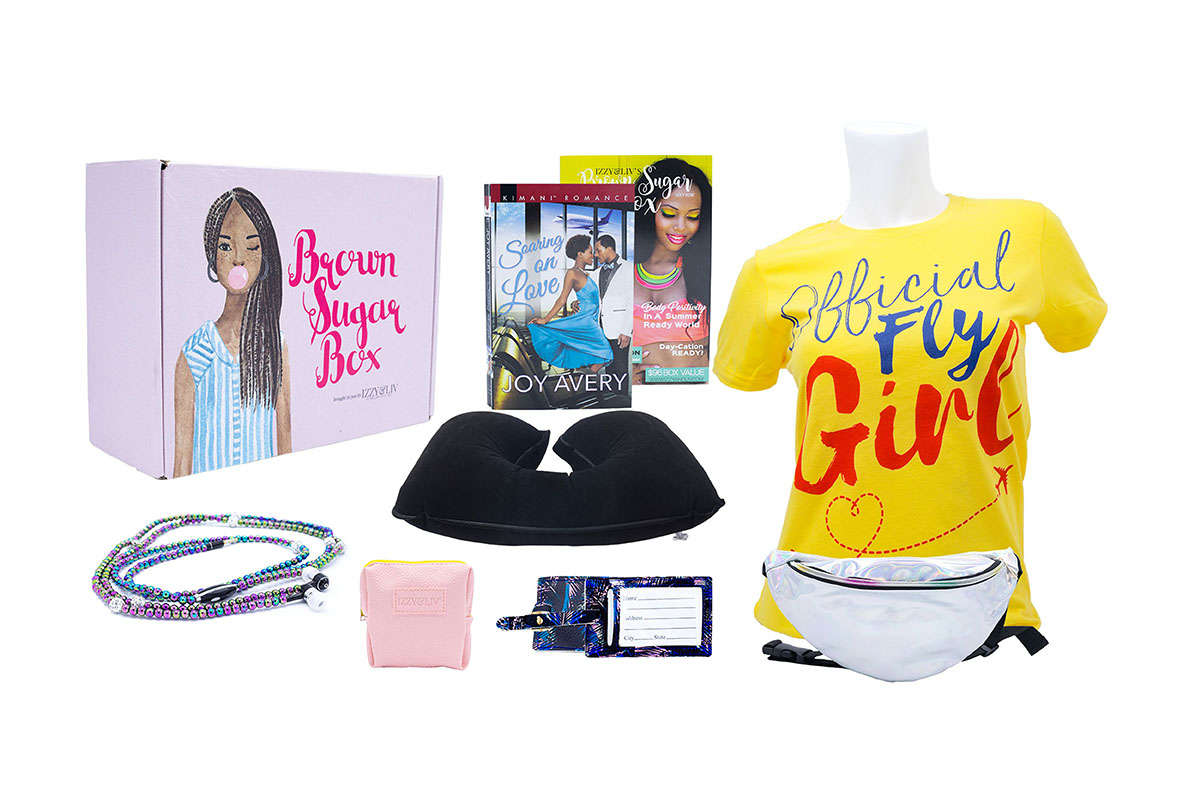 Inside The July 2018 Box
Official Fly Girl Tee
Silver OR Gold Fanny Pack
Pearl Necklace Headphones (assorted colors)
"Catch Flights Not Feelings" OR "Travels of a Magical Black Girl" Luggage Tag
Inflatable Travel Neck Pillow (assorted colors)
Travel Pouch
Soaring on Love Novel by Joy Avery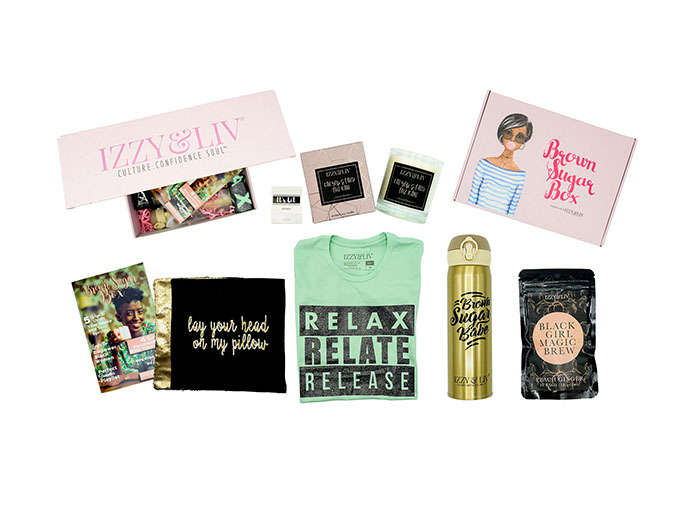 Inside the June 2018 Box
"Relax, Relate, Release" Glitter Tee
Brown Sugar Babe Hot/Cold Thermous
Black Girl Magic Brew - 10 pack tea
Lay Your Head On My Pillow Throw Cover
Reversible Gold Sequin Throw Pillow
The Glow Up Candle
It's Lit Matches
Mini Magazine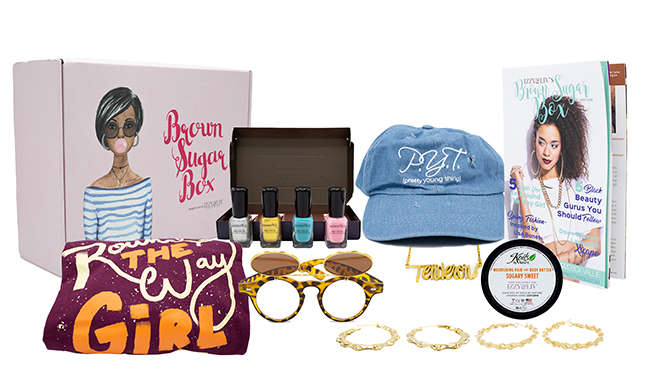 Inside The May 2018
"Round The Way Girl" T-Shirt
"P.Y.T. (Pretty Young Thing)" Hat
Fly Girl 4-Piece Nail Polish Set
Flip Up Sunglasses
"Tenderoni" Necklace
2-Pair Bamboo Earrings
Koils By Nature Body Butter (koilsbynature.com)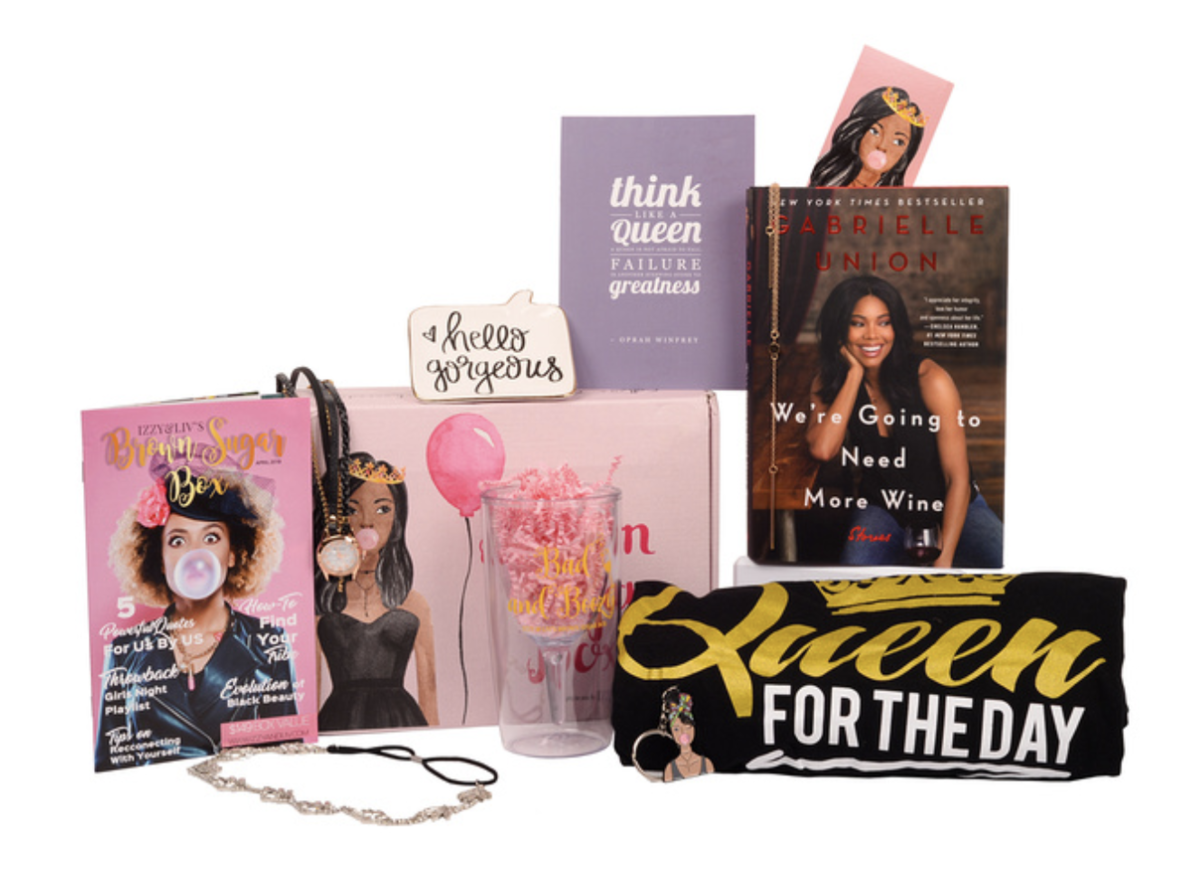 Inside The April 2018 Anniversary Edition
Queen For The Day Tee
Bad & Boozy Wine Tumbler
"We're Going To Need More Wine" Book by Gabrielle Union
Tiara Headband
"Time To Slay" Bracelet Watch
Brown Sugar Girl Key Chain
Hello Gorgeous Jewelry Dish
Bookmark and Inspirational Print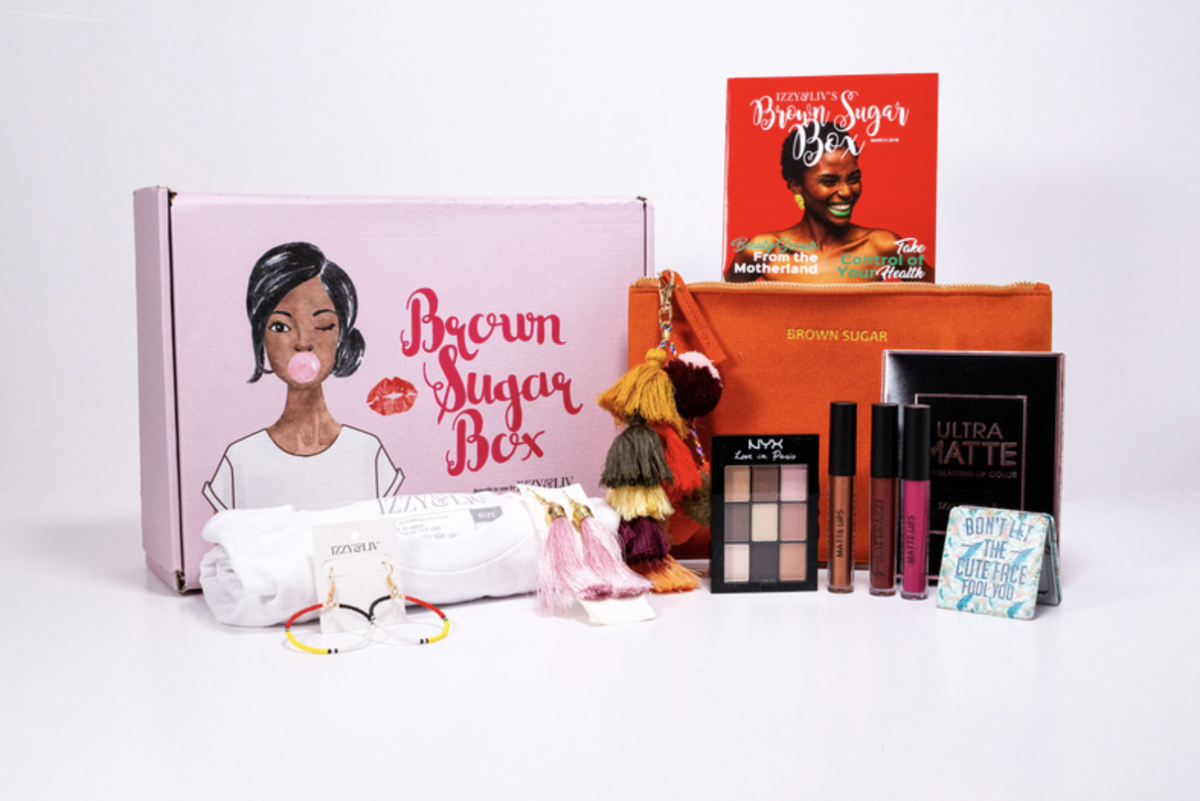 Inside The March 2018 Box
Pretty Brown Eyes Metallic Tee
Brown Sugar Suede Tassle Clutch
Matte Lip Gloss Trio
Don't Let The Cute Face Fool You Mirror
Tassle Earrings (assorted colors)
Beaded Hoop Earrings
Eyeshadow Pallette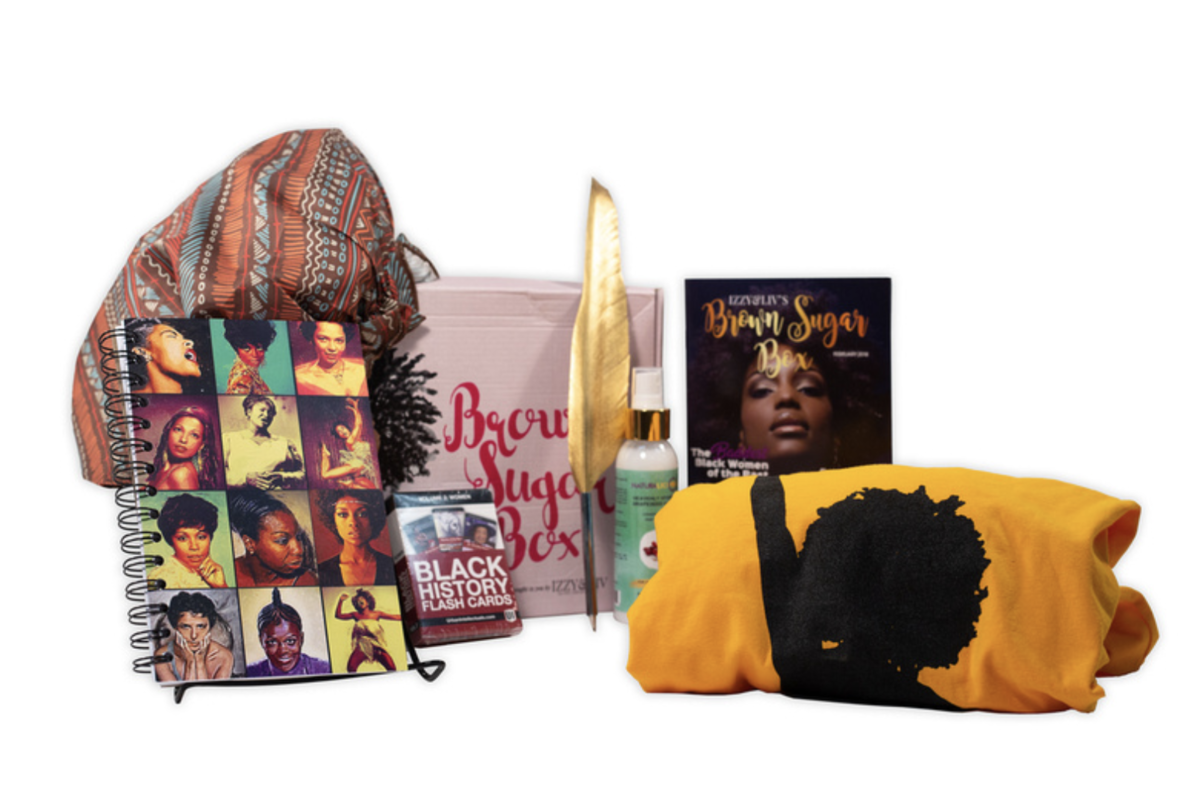 Inside The February 2018 Box
Black Girl Power Tee
African Print Bonnet (assorted patterns)
Black History Flash Cards Vol 2 (urbanintellectuals.com)
Naturalicious Hair Mist (naturalicious.net)
Phenomenal Women Notebook
Gold Feather Pen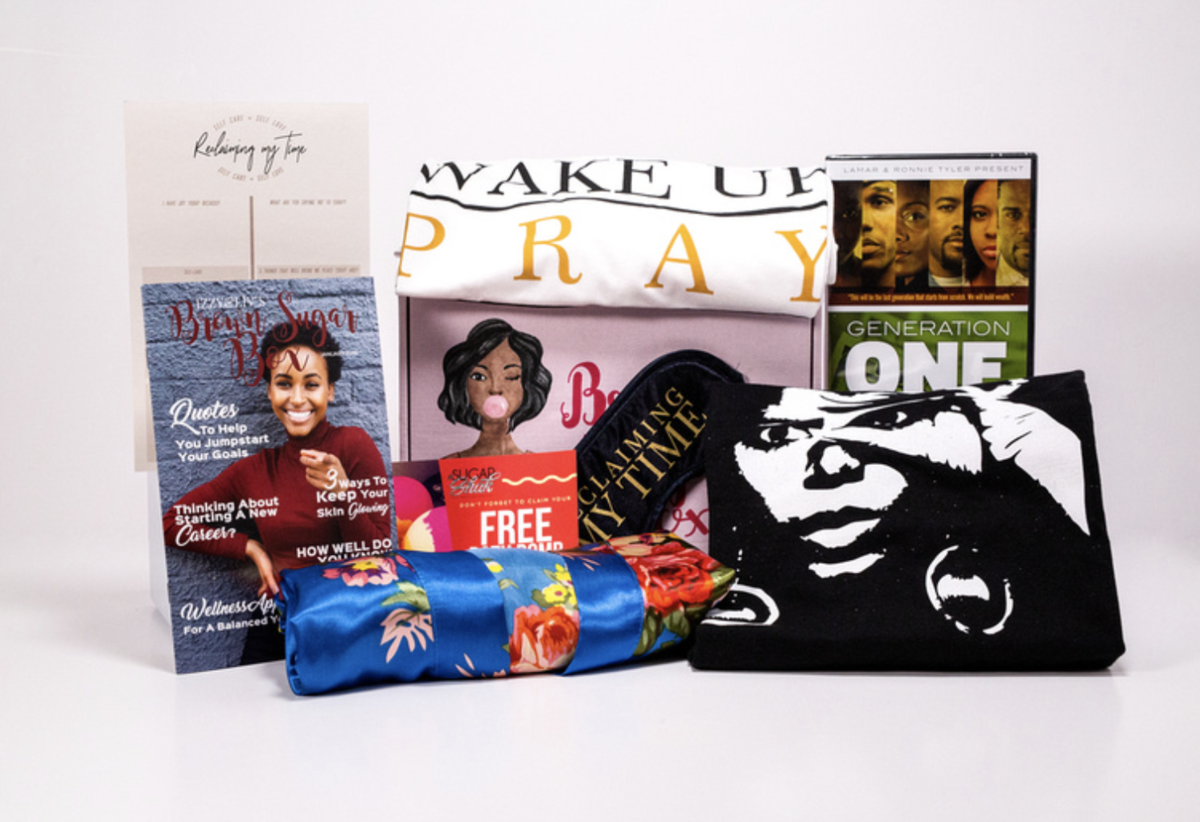 Inside The January 2018 Brown Sugar Box
Donyale Model T-Shirt
Wake Up Pray Grind Repeat Sleepshirt (One Size)
Floral Print Satin Robe (One Size)
Generation One Black Wealth DVD (www.blackandmarriedwithkids.com)
Reclaiming My Time Sleep Mask
Reclaiming My Time Self Care Notepad (from www.imapurposeplanner.com)
Free Bath Bomb Voucher from myswagboutique.com
$122 Retail Value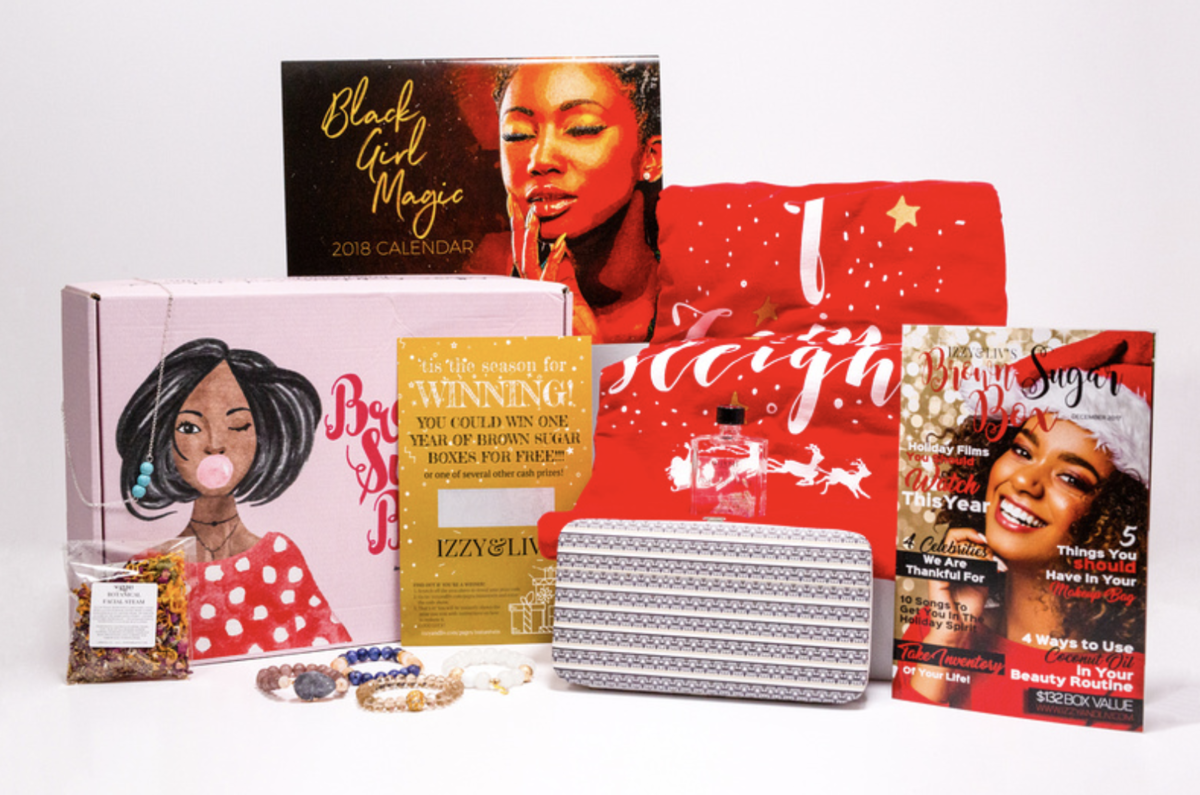 Inside The December 2017 Brown Sugar Box
I Came To Sleigh Long Sleeve Tee
2018 Black Girl Magic Calendar
Tribal Print Phone Case/Wallet/Clutch Combo
4 Piece Mixed Stone Bracelet Set
Mixed Stone Necklace
Instant Win Scratch Off
So Posh Beauty Body Oil & Facial Steam Set (www.soposhbeauty.com)
$132 Retail Value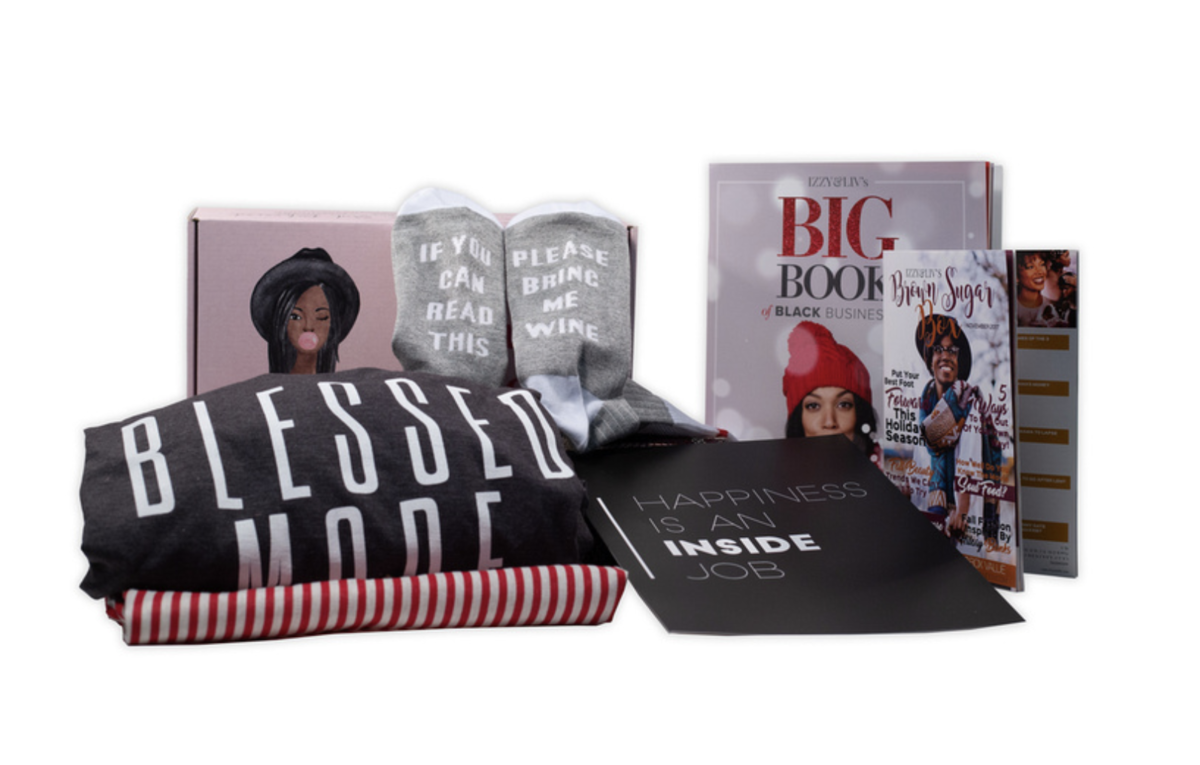 Inside The November 2017 Brown Sugar Box
Blessed Mode Long Sleeve Tee
Jumbo Blanket Scarf
Blessed & Highly Favored Pillow Cover
If Your Can Read This Bring Me Wine Socks
Apron
"You Name It" Fridge Magnet
Happiness Is An Inside Job Poster Print
Big Book of Black Businesses Holiday Gift Guide
$97 Retail Value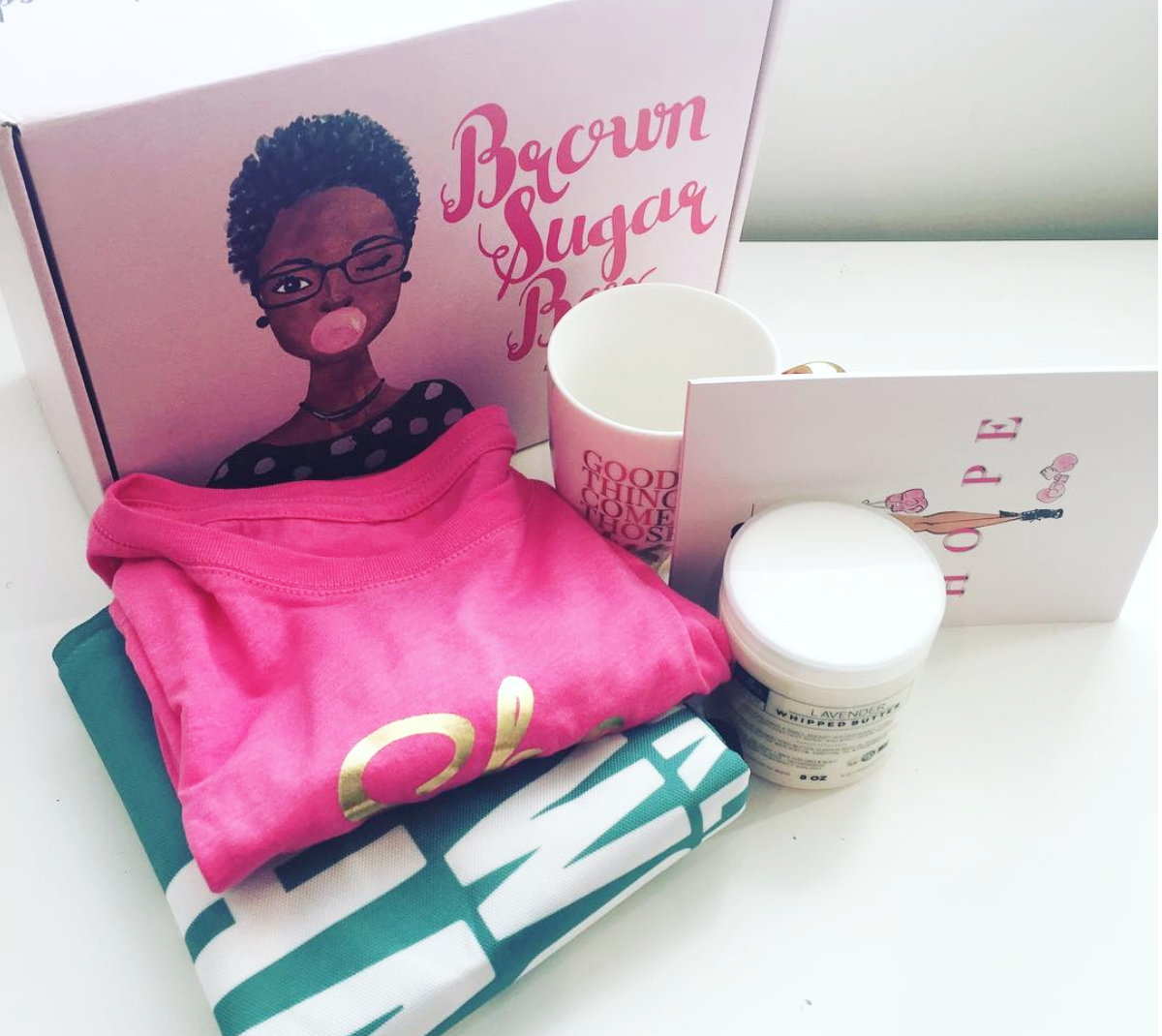 Inside The October 2017 Brown Sugar Box
"She is Worth Much More Than Rubies & Pearls" Gold Foil Tee
"Good Things Come To Those Who Hustle" Mug
Butter Depot's Vegan Whipped Body Butter (www.butterdepot.com)
"I Dream It I Work Hard I Grind Til I Own It" Tote Bag
5-Pack Breast Cancer Awareness Cards for Friends
"She Believed She Could So She Did" Breast Cancer Awareness Ribbon Enamel Pin
October 2017 Brown Sugar Box Mini-Magazine

A $109 Retail Value.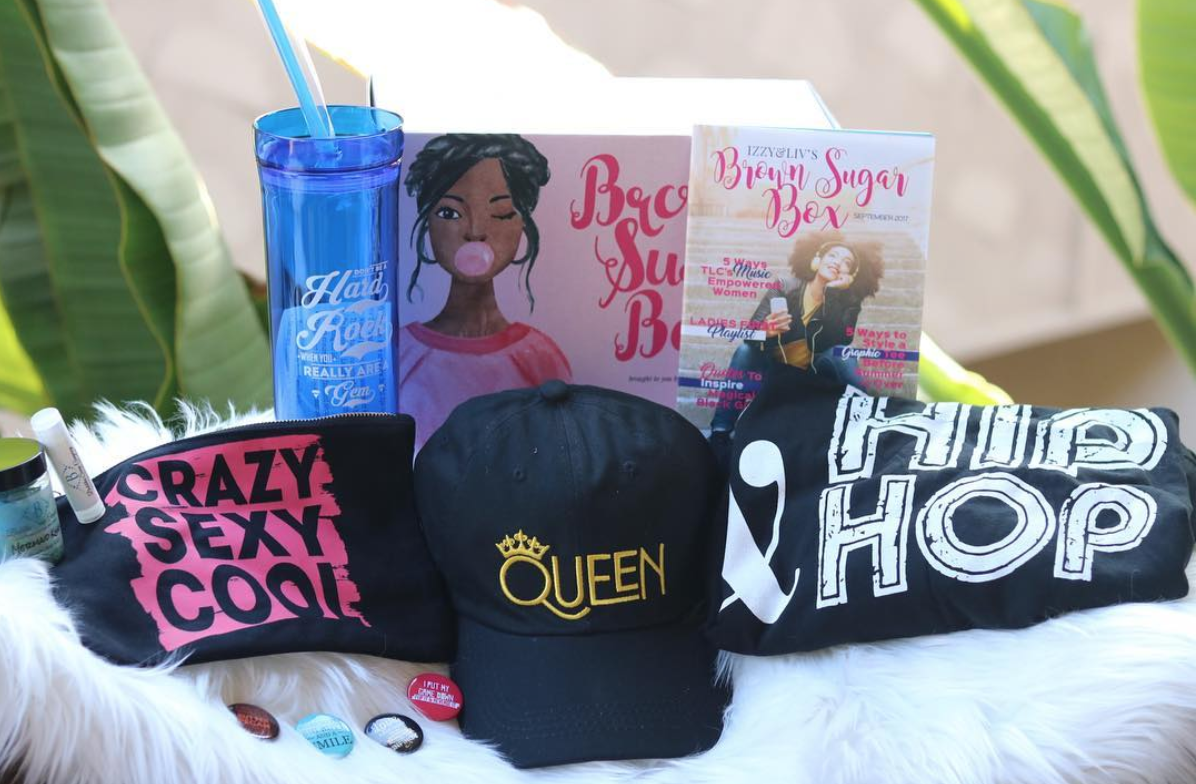 Inside The September 2017 Brown Sugar Box
Peace, Love & Hip Hop Tee
QUEEN Hat
Don't Be A Hardrock Straw Tumbler
Crazy Sexy Cool Cosmetic Pouch
4-pack Throwback Pin Set
Sugar Scrub and Lip Balm Set from BubblesSoapCo (www.bubblesoapco.com)
September 2017 Brown Sugar Box Mini-Magazine

A $109 Value.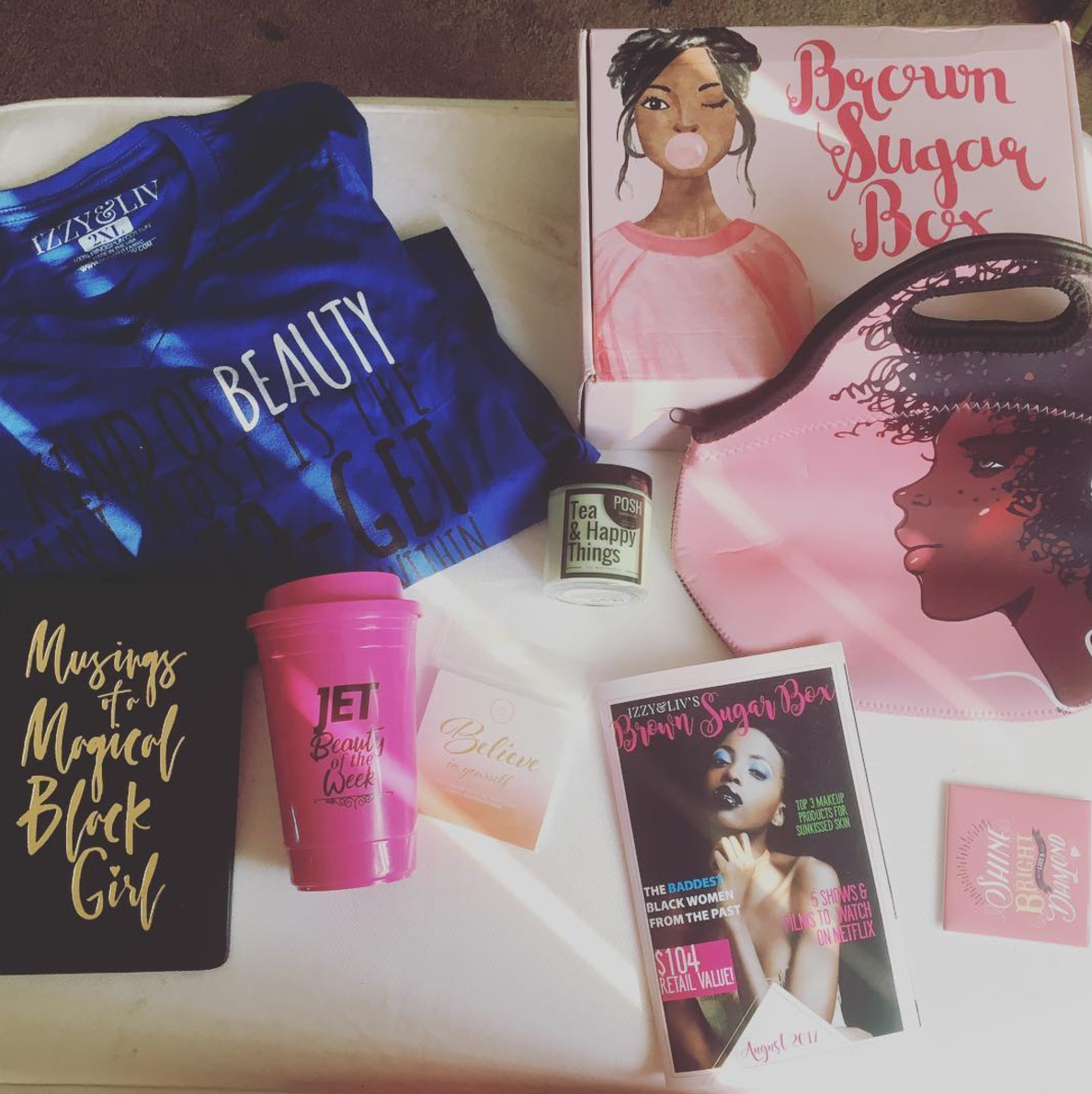 Inside The August 2017 Brown Sugar Box
"The Kind of Beauty I Want Most" T-shirt
Music Lover Neoprene Zippered Lunch Tote
"Jet Beauty of the Week" Travel Coffee Mug
"Musing of a Magical Black Girl" Faux Leather Lined Journal
4oz Candle from Posh Candle Co (www.poshcandleco.com)
Inspirational Sticky Note Pad from Vision Words (www.visionwords.co)
"Shine Bright Like a Diamond" Magnet
"Our Here Being Cute" Flat Pocket Mirror
August 2017 Brown Sugar Box Mini Magazine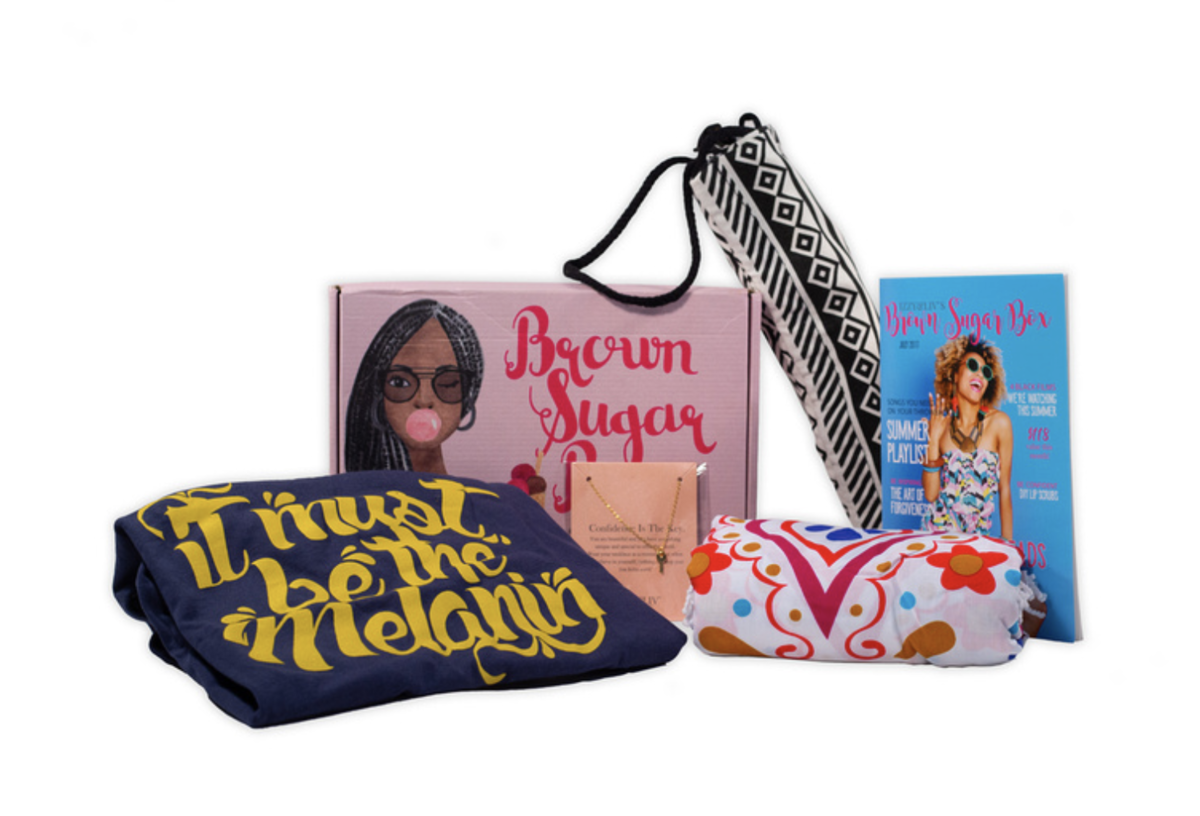 Inside The July 2017 Brown Sugar Box
It Must Be The Melanin Flowy/Relaxed Tank Top
Kissed By The Sun 60" Round Beach Throw/Tapestry
Tribal Print Drawstring Backsack/Cinch Sack
Confidence Is The Key Necklace
Bookmark & Melanin Love Sticker
July 2017 Brown Sugar Box Mini-Magazine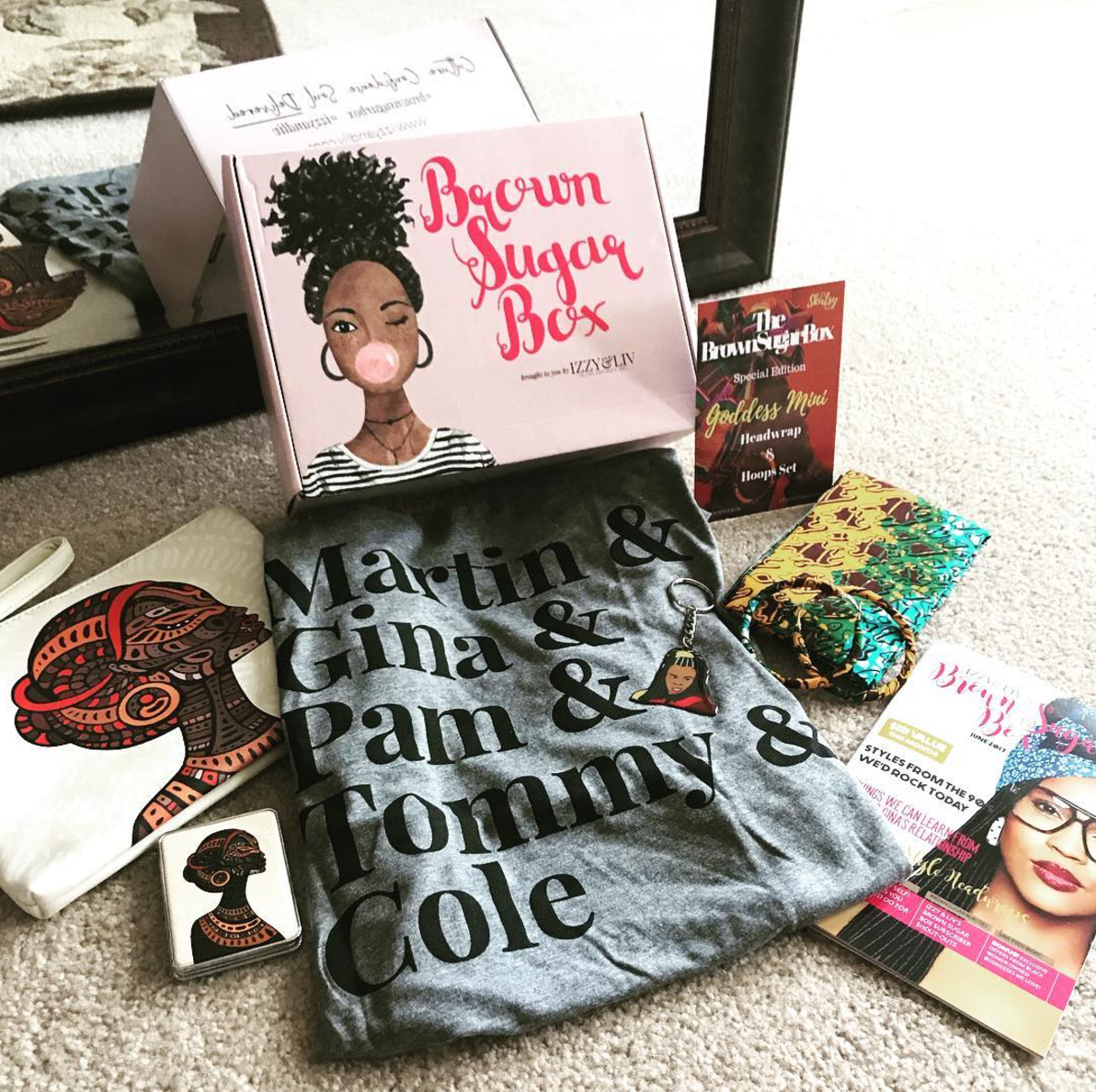 Cast of Martin Premium Heather Tee
Mother Earth Leatherette Clutch
Mother Earth Double Compact Mirror
Mini Headwrap from theskirtsybox.com
Matching Hoops Earring from theskirtsybox.com
Sheneneh "Omigooodness" Keychain
June 2017 Mini Mag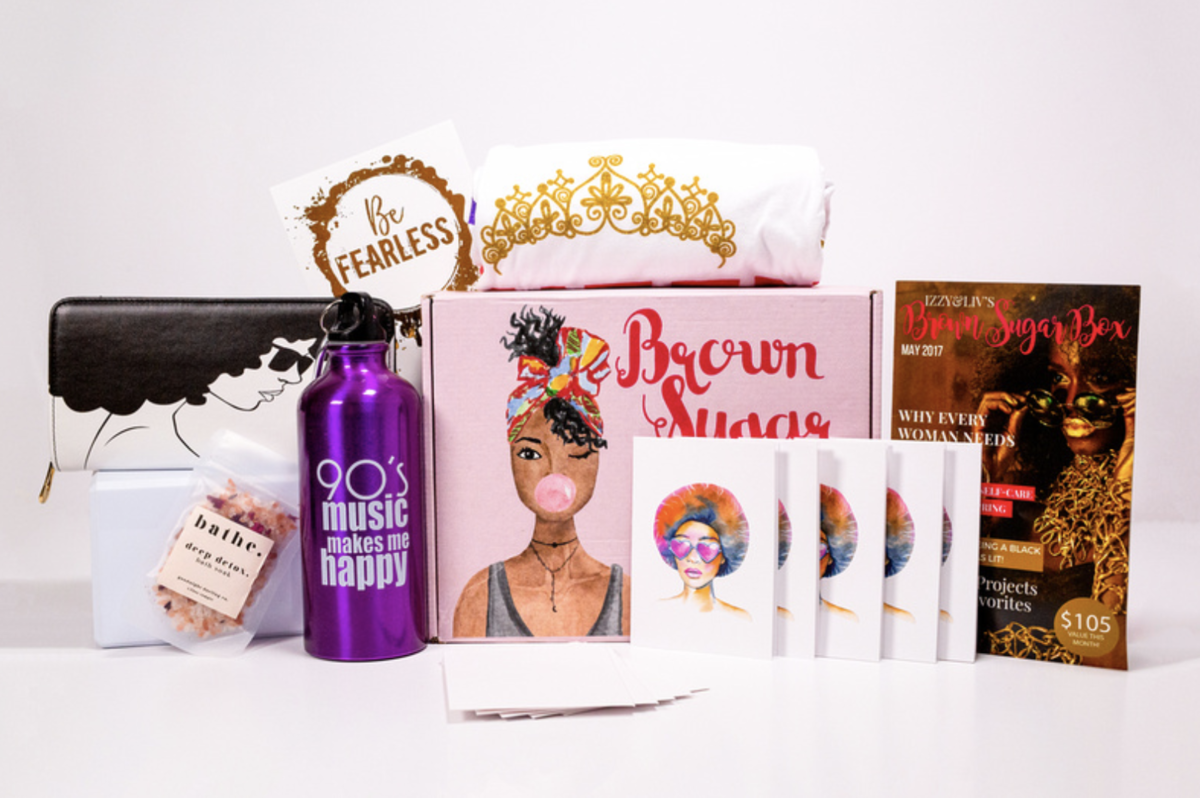 Inside The May 2017 Brown Sugar Box
Queen. Goddess. Flawless. Glitter Print T-Shirt
Curly Fro PU Leather Wallet
"90's Music Makes Me Happy" Aluminum Water Bottle
"Be Fearless" Gold Foil Print from jazmineirene.com
Bathe Deep Detox Bath Soake from goodnightdarlin.co
5-Pack Watercolor Chic Card & Envelope Set
May 2017 Mini-Mag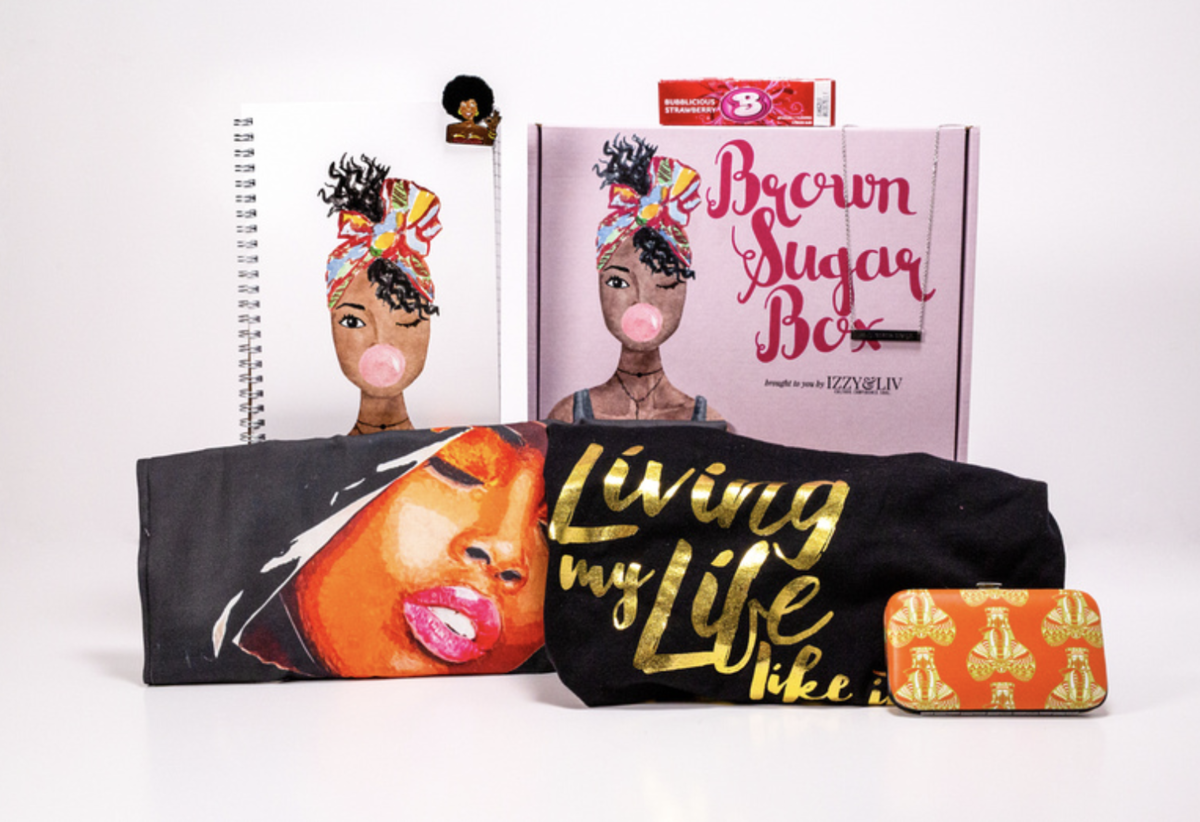 Inside Our April Brown Sugar Box
"Living My Life Like It's Golden" T-Shirt
"I'm Coming Out" Tote Bag
"Bubble Gum Beauty" Notebook
"Beauty. Radiance. Strength" Bar Necklace
Elephant Print Manicure Kit
Shaniesm.com Enamel Pop-Art Pin
April 2017 Mini-Mag
see more details

PLEASE NOTE: past boxes are not available for sale from this page. Signing up today will begin your subscription going forward with the next box scheduled to ship. We do not announce what will be in future boxes before they ship Thanks!