The Brown Sugar Edit: What We're Currently Obsessing Over!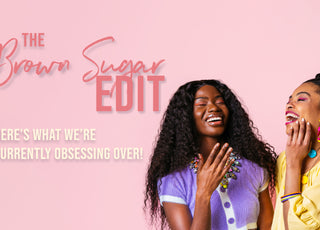 As we celebrated A Different World turning 35 years old this past weekend, we look back and see the many ways Hillman and its beautiful people influenced our lives! From hard-hitting conversations, and funny zingers to eccentric fashion and amazing accessories!

Taking fashion inspiration from the original cast, we bring you today's fashion inspired by none other than A Different World!
PLUS, TAKE THE QUIZ: Time to put your Hillman knowledge to the test. Take this quiz to see if you're a true alum of the most elite fictional HBCU! 
What's your Sun Sign as a Mary J Blige song? Are you searching for a REAL LOVE or are you going down, sis? Our popular @izzyandliv on IG feature is back! If you missed it in our feed, here's a recap below!
What's a Sun Sign Sis? The sun sign (AKA zodiac sign or star sign) is the sign that most people know since you only need your date of birth to find it. It's what you tell people when they ask you what your sign is—" I'm a Libra" or "I'm a Cancer." The sun represents your identity, sense of self, and ego. The sign your sun is in indicates what motivates and drives you, and it also can show how you express yourself.
"Them men, them gon' fall in love with you and all of your glory!
Your skin is not only dark, it shines and it tells your story"✨
@Ash takes us to the Mother Land with her Brown Skin Girl TikTok! Tell us your story!
"Y'all bout to be sick of me! I'm having way too much fun
wearing this press on set from @izzyandliv. Sorry, not sorry 😘🔥💅🏾"
Our good sis, Lakee is sharing a lil of her Brown Sugar while vacationing
in her Brown Skin Queen Luxe Belted Satin Robe! It's the Black Girl Magic flourishing worldwide for us!
The doors of Abbott elementary are back open for season 2! We couldn't be more excited than ever to see them back in the classroom! Have you seen the latest episode sis? 
Being the caretaker of the family is a multifaceted role that takes on more than we can imagine sometimes! See what happens when a normal cross-country road trip becomes a highway to trouble in this action thriller starring Queen Latifah and Ludacris.
Yes sis, it's true! Riri is stepping out honey!! The 7-year drought is over! Jam out to to some of her greatest hits on our Everything FENTY Playlist!