10 Black Women CEOs You Need to Know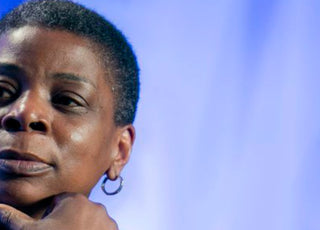 Sometimes we need to be reminded that there are women out there who look like us who are calling the shots in major ways. These ladies are the epitome of #blackgirlmagic. And yes, we know there are way more black women CEOs than are featured here, but let's take a look at 10 women who are changing the face of power.
1. Ursula M. Burns
Ever heard of a little company called Xerox? That's right, Burns has moved up the ladder from an intern to the CEO of this global corporation in just a few short decades. She even received an invitation from Barack Obama to sit on the President's Export Council.
2. Desiree Rogers
Rogers is the CEO of the world's largest black-owned and operated publishing company: Johnson Publishing Co. The accolades don't stop there. Before her move to the top of the black publishing world, she served as the White House social secretary.
3. Debra L. Lee
BET just wouldn't be what it is today without an influential black woman leading the charge. If it weren't for Lee, we'd still be subjected to watching music videos on that network that degrade women of color. She has been working to change that stigma and incorporated programs such as Black Girls Rock! that have a message.
4. Tracey E. Edmonds
This beautiful CEO made a name for herself when she started her own production company called Edmonds Entertainment. After having years of experience in the entertainment industry, Edmonds decided to create her own company and has been thriving ever since. Edmonds is also the COO and president of Our Stories Films, a creative company that focuses on projects for people of color.
5. Angela Benton
Benton is the CEO of Black Web Media and previously worked in marketing, design and digital strategy. She is also the publisher of the foremost publication for black people who are interested in technology and modern media: Black Web 2.0. More recently, Benton founded a platform, NewMe Accelerator, to help minority startups get funding.
6. Zuhairah Scott
There's another arena that black women dominate and that is dating! Graduate of Harvard's law school and business school, Scott founded Kahnoodle. With a plethora of experience behind her – from working at MTV to Goldman Sachs – Scott decided to start, in her own words, "the first mobile productivity tool for couples".
7. Rosalind G. Brewer
Brewer is the first female and first African American CEO of a division of Wal-Mart: Sam's Club. She also serves on the board of her alma mater, Spelman College and Lockhead Martin.
8. Iman
This fashion goddess has made her mark in the business world as the founder and CEO of Iman cosmetics. After realizing her own struggles with finding the right color of makeup for her skin tone, she decided to start her own cosmetics line in 1994. Her brand is targeted towards women of color.
9. Oprah Winfrey
She needs no introduction. Winfrey is a world-renowned boss of all bosses. Two snaps for one of the most successful public figures in the world – not just as an African American female, but as an American. After decades of hosting the Oprah Winfrey Show (as if she needed to) she decided to cancel her long-running talk show to start her very own cable network, OWN. And we all know the rest is history.
10. Madam C.J. Walker
We can thank Walker for leading the black hair product movement that has been thriving ever since she started her hair-growing business in the 1900s: Madam C.J. Walker Manufacturing Co. She was the first female millionaire who did it all on her own. Upon her death in 1919, Walker had left behind one of the largest black-owned manufacturing companies in the world. We solute you Madam C.J.!