Winter Fashion Inspired By En Vogue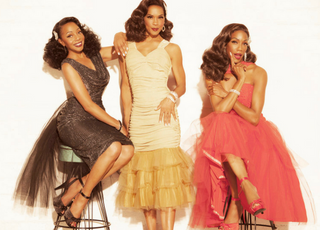 We're just a few days away from winter so that means it's time to "free your mind" of fall fashions and get ready to embrace the winter fashion trends. Since we love the 90s here, we pulled some fashion inspiration from one of the best girl groups of the 90s. En Vogue. The popular former quartet, now a trio, had some classy and feminine fashion sense that work quite nicely with winter seasonal trends. Check out some winter fashion inspiration below.
Classical Red
Good 'ole cherry red is always fitting for the winter season. We could always count on En Vogue to rock this color in their mix-match outfits. Whether you are going out for a girls night or dressing up in sweater weather, red is the perfect shade. You can do no wrong!
2.) Gloves
I'm not just talking about fuzzy mittens ( though you can wear those too, of course!) I'm talking long-armed gloves that add a bit of sophistication to any look, especially if you are thinking about hitting the town for a romantic winter dinner or heading to a more upscale event. 
3.) Animal Prints
En Vogue is known for wearing matching animal prints and we're here for it. Just because it's winter, doesn't mean you have to hide your wild side. Adding a pop of zebra print or cheetah spots to your look gives it a sexy boost.
4.) Patterns & Textures
What we really love about En Vogue's fashion is their subtle play with textures and patterns. Trying styling some plum suede boots, a velvet dress, or a plaid scarf! Don't be afraid to switch it up this season!
5.) Rhinestones
En Vogue loves to shine both in music and in style. You can't go wrong with wearing a bit beaded designs. Wearing any piece of winter clothing decked with rhinestones will make you stand out in the winter night!