Winter Beauty Tips to Follow Now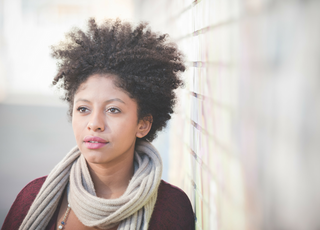 It happens every year but if you're anything like me, you're never prepared. When winter hits, our melanin can quickly go from poppin to…absolutely NOT poppin real quick. And although there is nothing quite like summer beauty there are a few things that you can do to get your winter beauty routines in formation.
HAIR
Let's start with the crown. Winter can wreak havoc on our hair if we're not careful. Here are a few tips to keep your crown looking it's best:
Moisturize, moisturize, moisturize. Due to the kinky, coily, curly texture of black hair, keeping it highly moisturized is important year round. But in the winter, when you're dealing with cold winds outside and forced heat inside, there's no escaping the dryness. Switch up your moisturizer with something heavier and be sure to increase your normal moisturizing sessions.

Protect your hair at all times. The winter is the perfect

 

time to master those protective styles—did you see our post on natural hair extensions? Now's the time to invest in some! You can moisturize your hair and put it away. If protective styling isn't your thing, try to keep your hair up and your ends tucked away. I know those chunky sweaters are cute but they are brutal on the ends of your hair!
MAKEUP
If there's an upside to winter beauty it's the chance to play in makeup! Because let's be honest, nobody has time to be walking out in a face full of makeup in the middle of the summer.
Master the art of highlighting. This is how you fake it till you make it. Learning how to highlight properly can help give your skin that summer time glow when you need the most. The best way to make it happen? Invest in a good highlighter—powder or liquid will do—and apply on the top of your cheekbones, down the bridge of your nose, on your forehead and any other place where the light naturally hits. If you're rocking with a liquid highlighter, try mixing a few drops into your moisturizer. This will help your skin look like it has that natural glow.

Swap out your summer foundation with a winter one. Now, I know firsthand how hard it is to find your perfect foundation match, so to tell you that you need another one might sound a bit crazy. But, different seasons call for different foundation. You'll need to find one that is a bit more moisturizing and maybe even a shade lighter. It's all about getting the perfect blend hunny. 
BODY
Good beauty habits go beyond your hair and makeup. And winter is just the season to let you know you have some work to do. 
Invest in some oils and use them often. We wrote a whole post on essential oils—you'll want to check that out as well—but they're not the only ones that can help keep your skin looking its best this winter. Coconut oil, jojoba oil, and even avocado and almond oils are great choices to help keep your skin nourished and hydrated no matter how cold it is outside.

Exfoliate!! And we're not just talking about your face. Your body needs exfoliating as well. Contrary to popular belief, when not overdone, exfoliating helps to remove dead skin cells which allow your moisturizers and oils to penetrate the skin better. An extra tip: EXFOLIATE YOUR LIPS as well. Solves chapped lips better than any lip balm can!