Weekly Wrap Up: Farewell, President Obama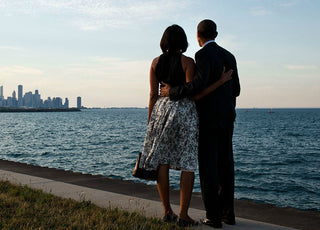 Hello everyone and Happy Friday! It's time for our weekly wrap where we cover the latest news headlines and blog updates.
Thanks, Obama (really!)
Let's get started with the biggest highlight of the week. President Barack Obama delivered his final speech to the nation on Tuesday evening at his hometown of Chicago. His eloquent speech put a spotlight on all the accomplishments this country made under his remarkable eight-year term such as killing America's most wanted terrorist, establishing the Affordable Healthcare Act, ending two wars, and legalizing marriage equality. As the United States of America's first African-American president, Barack Obama has certainly achieved way more than many of us have even contemplated, especially coming off the heels of the Bush Administration. It also took a slight introspective turn by looking at where we are now as a nation as we approach the President-elect's Inauguration Day.
Obama touched on how citizenship comes with a lot of responsibility, more so today than in recent memory in American history. In defense of our undermined democracy, he discussed how news that appears to be false should be taken with a grain of salt and how participation in social justice and grassroots politics is critical if you want to create change. So instead of yelling on Twitter, get involved in your local politics (Man's got a point!). Passionately, he defended the need for social, gender, and economical equality; affordable healthcare, and a tax code that stops overly favoring the rich. Obama's speech was emotional (he was too!) and left many of us nostalgic for earlier days of his administration. Lastly, he thanked his awesome wife Michelle for having his back and making the White House feel like a real home. Let's just say, we were all left in tears. You can read the full transcript of the speech here.
Golden Globes Highlights: "Atlanta", "Moonlight", and…"Hidden Fences"?!
Sunday was a night of glitz, glamour, and awkwardness at the Golden Globes. Donald Glover's hit FX show Atlanta won two awards: "Best TV Comedy" and "Best Performance by an Actor in a Television Series-Musical or Comedy" for Glover.  While accepting his award, he thanked Georgia-based, hip-hop group Migos and their new track "Bad & Boujee". The shoutout goes a little deeper than saying those guys having a "hot" song (you can check it out here). Glover thinks highly of the trio, saying they are the "Beatles of this generation".
Barry Jenkins' film Moonlight took the top prize of the night by winning the award for "Best Picture-Drama". It was a surprise and only Golden Globe win for the film which, scored six nominations. Jenkins' film about a young black man living in Miami became one of the most critically acclaimed films of 2016. Its Golden Globe win is enough to say Moonlight is in the running for the Oscar.
There were some awkward moments at the Golden Globes, specifically the "Hidden Fences" gaff made by Michael Keaton during the telecast when he confused nominated films Fences and Hidden Figures, both of which have a prominent black cast.  He wasn't the only one, however. This slip up also occurred on the red carpet when NBC news reporter Jenna Bush Hager interviewed Pharrell, who was nominated for his work on Hidden Figures. Of course the mess up was an innocent mistake but it did irk the black community for failing to appropriately acknowledge the films separately as its each unique piece.  Both Keaton and Hagar have issued apologies for upsetting the cast, crew, their families and fans of the films. Though, that didn't stop twitter from making plenty of "Hidden Fences" jokes. Stephen Colbert even made his own trailer for the nonexistent film by blending shots from both of the acclaimed films.
Stuff We ♡ ICYMI:
Check out these newest posts from our blog! It is a new year. In case you need some motivation to achieve your goals, read some words of wisdom by some amazing sistas.
Just because Christmas is over, doesn't mean winter is! Rain or snow, the weather has been insane all over the country. Which makes it the perfect time to do some self-care! Essential oils are ideal if you want a little boost in your routine. Check out this post on the different ways you can incorporate essential oils this winter season.
Blog <3: When it comes to self-care, improving your style (hair, beauty, or fashion) is a great place to start. Maybe you are thinking of going natural in 2017. Or you are still struggling to find a good hair routine? Check out this newest post by Curly Nikki, to help you put together a fabulous healthy hair routine this year.