We're about to show OUT – Get the 411!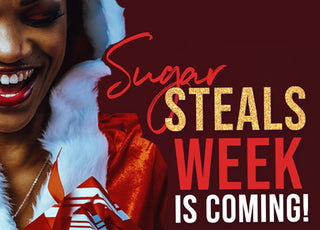 It's our favorite time of the year at Izzy & Liv and we're gearing up for our 8th annual, EPIC
Sugar Steals Week
!
As we navigate challenging economic times, we're all feeling the pinch, whether it's from inflation or other financial pressures. This holiday season, we want to help ease that burden - that's why we are more excited than ever about the incredible steals we have lined up for you! Are you ready?
✔︎ Our Biggest, Blackest Black Friday we've ever offered
✔︎ Our Sickest Slaying Cyber Monday in 8 Years
✔︎ Pre-Sugar Steals Flash Sales Bundles on Bundles and Bundles at steep savings
✔︎ Freebies like there's no tomorrow
✔︎ And as usual, hundreds of unique gift ideas, designed with YOU in mind, for the culture, that you cannot find ANYWHERE else
Mark your calendar because when you miss a day, you miss a lot! We're going ALL 👏🏾 OUT👏🏾 FOR 👏🏾YOU👏🏾!
Let's make this holiday season a time of love, generosity, and smart, value-conscious shopping. We're going to help you do just that. 
You don't have to go broke to ball out on your loved ones. If you want to save money while gifting friends and family with thoughtful items that reflect them- we've got you covered.  We are determined to help you end the year on a high note, Sis!  
HOW TO MAKE SURE YOU DON'T MISS A THING
❑ Make sure support@izzyandliv.com is added to your email-safe list of contacts
❑ Make sure you're subscribed to our SMS and saved our contact info
❑ Follow us on all social media channels: @izzyandliv
❑ Join our Brown Sugar Lounge on Facebook for extra bonuses and experience the most supportive and uplifting sisterhood.
❑ Tell your friends and spread the word cuz ain't no fun if your homies can't save $$$ too!
Browse our Holiday Gift Guide for the Culture and get into some of our pre-Sugar Steals deals because you know we gotta give you a pregame warm-up! You don't wanna miss these deals either!

Mark your calendars cuz it's going down, sis