Top 10 90's Sitcom Man Crushes

In the '90's we witnessed the black sitcom blowuptuate. We went from having one or two shows to a whole TV line up, and then some. Although the presence of black sitcoms has dwindled a bit, the 90's gave young girls like me, plenty of chocolate to fawn over for years to come. These 10 black sitcom cuties will continue to take over your Man Crush Monday:
1. Tyone Burton
Hello handsome! We were only lucky enough to get the gorgeous but troubled TK for two seasons, but it was well worth it. His "bad boy turned good" image and that Colgate smile continues to make our hearts melt.
2. Marques Houston
"Go Home Roger!" is everyone's favorite line from Sister, Sister but I don't think anyone in their right mind is telling Marques Houston to go home. We watched him go from the girls lovable yet annoying neighbor to a bona fide heartthrob. And any episode where he was offered the chance to sing, was justification for the many (you had them too!) posters I had of him on my walls.
3. Will Smith
Will Smith has been on top of the world since becoming the fresh prince in 1990. His talents and good looks has compelled us to tune in for movie after movie. It might even be safe to say that Will Smith can do no wrong. Our Monday's will always have a special place for Will.
4. Jason Weaver As the older brother on Smart Guy, we were introduced to an older and more mature Jason Weaver. We got lots of sex appeal from Jason in '97. He gave us all kinds of dark skin feels and even serenaded us with a song or two from time to time.
5. Ray J
Ray J, Ray J, Ray J. Before he was a recording artist and a reality TV star, he was Dorian "D-Money" Long. Brandy's brother was giving us even more dark skin feels in '99.  With that glowing chocolate skin and adorable babyface, how could you resist making him your featured man crush of the day.
6. Omar Gooding
Every girl loves a funny guy, and Omar Gooding spoke life into that notion on Smart Guy. As Marcus's not so bright sidekick, Morris L. Tibbs was stealing our hearts in 1997, one joke at a time.
7. Kel Mitchell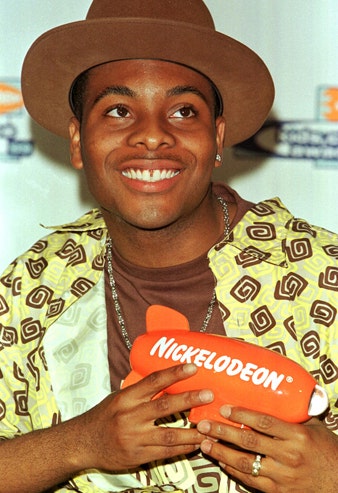 "Who Loves Orange Soda?" It's true that Kyra wasn't the only little girl crushing on Kel Mitchell. Aside from his moronic antics and an unabashed love for orange soda, Kel Mitchell was never more than a gap-toothed smile away from melting our hearts.
8. Lee Thompson Young (RIP)
YAASS Jett Jackson! In 1998, the Disney Channel and Jett Jackson had my 8-year old heart. Who doesn't love a dark skin brotha with hazel eyes? Sign me up for that any day.
9. Merlin Santana (RIP)
Did I mention that the dark skin feels were on ten in the '90's? Romeo Santana never failed to give us sex appeal on The Steve Harvey Show. Although, like most people I know, I was too young to watch the show when it aired, my heart melted for every rerun.
10. Darius McCray
Eddie Winslow started Family Matters as a bit of an ugly duckling and boy did he get his swan on. Eddie glowed up in a major way, and we ladies couldn't help but notice.
Although this list could go on, I hope these man crushes make your hearts melt all over again. I hope this list brings you back to the young girl in her bedroom with her WordUp! Magazine and the posters on her wall.