A Step By Step Guide To Matte Skin for Black Women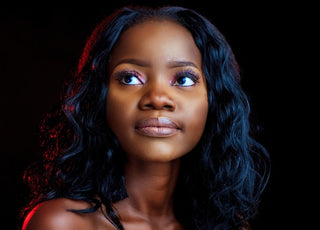 Makeup can be a tricky thing for us black women. On top of finding the right shades for our skin, we also want the best products to achieve the look we want. Maybe you like to leave the house with glowy skin? But what if you are looking for a more natural look? Well, going matte is the way to go. Matte makeup looks are stunning on black skin. If you are looking to achieve a fresh matte skin makeup look, continue with this step by step guide:
Cleanse and moisturize your face
Before you start applying any makeup, be sure to cleanse and moisturize your face. Dirt and oil will make your makeup up look muddy. And no one wants a dull looking face! If you have dry skin, a creamy moisturizer would work best. Otherwise, a light moisturizer will go a long way without clogging your pores.
Apply primer
To achieve a smooth matte look, putting primer is incredibly helpful. Though it's not always necessary, applying a good primer allows your makeup to last longer. A dime size amount of this stuff and your face is prepped for a matte look. Don't forget to apply some on your eyelids if you plan to put on eyeshadow and eyeliner.
Start with a foundation
Now that you know how to choose your foundation shade, take out your favorite foundation shade and begin to work that onto the face. You can use a liquid foundation with a matte finish. If your foundation is full coverage, use a brush or beauty blender to help. However, there is nothing wrong with using your fingers too if your foundation gives you light coverage.
Apply a matte concealer
Ideally, it's best to have two different matte concealers. One should be used to cover up any hyperpigmentation and blemishes. This one will match your foundation or your skin tone. The other should be lighter than your foundation shade. You will use it as a highlighter for areas like underneath your eyes, your chin, and forehead. Use a beauty blender or flat brush to help blend everything in.
Use a matte pressed powder
This final step will ensure you got your matte melanin look on point. After you've applied the basics, now its time to use a matte powder! This powder will lock your makeup in place while also leaving it a matte finish. Now you can't use your fingers for this. Grab a nice fluffy brush or beauty blender to press the powder (get it?) onto the face, including the places you concealed.  
When you are done following these steps your melanin will be matte and poppin'! A matte look makes the face look so fresh and so clean. The key is to have the right products that work for your skin. Whether you have oily or dry skin, make sure your makeup is suitable for your skin type.