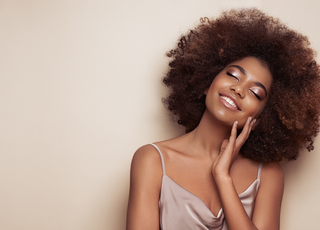 by Tiffany Stewart
2022 was filled with many trends and surprises, but whether we realized it or not, there was one color that took the streets and runways by storm. Gaining popularity during the spring and summer seasons, brown in all its many shades became the new black, leaving a mark on the fashion world and beyond. Whether it's interior design or your personal style, brown is a color you should become acquainted with before the year is over. Here are a few ways to have fun with browns:

It's The Curls For Us
With the humidity gone and most pools closing, fall is the perfect season to sport a new look! If you have darker roots, consider lifting your hair to an auburn or dark brown for some fun. Our forever queen Beyoncé ditched her usual honey blonde tresses and returned to her natural dark brown roots for her latest Vogue UK cover spread. Ciara, SZA, and Saweetie have already caught wind of the trend and have been seen rocking darker tresses, leading the pack for more to come. Make sure you book an appointment with a stylist who specializes in natural hair and colors to achieve the color of your choice without ruining your curls.

Home Chic Home
This autumn, try welcoming more shades of brown into your home. Browns are warm and timeless, and they just scream fall. Whether that splash wall needs a new paint job or you're looking for an accent chair to liven up the living room, interior designers are incorporating the shade into their palette for its earthy realness and comfy vibes. Plus, it pairs well with vibrant artwork from your favorite
Black contemporary artists.

Serve Lewks
Last, but not least, make sure you incorporate brown into your personal style! Pair brown with golden yellow, orange, or even emerald green, to truly encompass a fall vibe – and don't be afraid to mix textures! Rock that ribbed knit top with a silky-smooth skirt or go for the leather brown pants and a long sherpa overcoat. If you're an athleisure girl, try some unisex jogging sets that range in color from chai to mocha. Pair any of these looks with gold accessories and you're all set.