Editors' Picks: New Year, New Me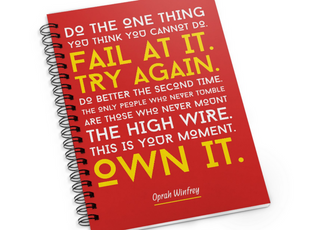 Well, more like new year, new habits, so that we can become the best versions of ourselves. Not as cute of title but y'all know where I was going. So, who's with me?
I have always been a believer that if you want to accomplish great things you have to write it down. Write the vision. There's nothing like breaking open a fresh new notebook at the beginning of the year to list out your goals, ideas, and plans for the new year. Use this to document your journey, the highs, the lows, the lessons learned, and everything in between.
Whether you're a coffee or tea kind of girl, starting off your day with a mug that puts you in the right mindset is always a good idea. For the ladies who are ready to slay 2018 in their businesses, work, and career this mug is for you. Shout to my boss women wifing business!
Let's start today and declare 2018 the year of self-love and unapologetic black girl magic. I mean, honestly, that's every year but you see where I'm going. This year, let's make it a point to show up as the biggest, boldest, best versions of ourselves as black women.
Regardless of what you hope to achieve in 2018, remember your dreams and your goals are valid. Whether you've set your sights on small things like taking up a new hobby, more abstract things like showing up for yourself and your loved ones, or the big ones like starting a new business or buying a house, you can do whatever you put your mind to. Let this mirror be the perfect reminder of your goals. Now let's go get it!