Classic "Kid" Shows We Miss from the 90s and Early 00s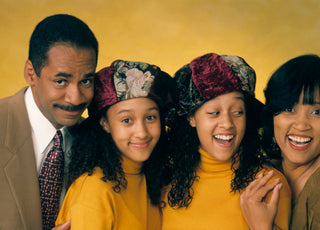 If you're a 80s or 90s baby, you'll definitely remember all of these shows! Nowadays, we like to say that this generation doesn't know what good TV was, and when you think of all the shows we use to watch, we're right! When you turn the TV to Disney Channel or Nickelodeon, you might wonder what you're watching because I know that I am! If you're feeling a little nostalgic about the best shows of the 90s and early 00s, check out our list below!
The Fresh Prince of Bel-Air
The one show that probably ruled the entire 90s was "The Fresh Prince of Bel-Air." Although this show only aired from 1990-1996, there's no question the impact that it had while it was on TV and even afterwards. This TV show has become a major part of pop culture because let's be honest, if you don't know the lyrics to the theme song, are you even a real person? From the popular words of "…In West Philadelphia, born and raised" to the dance moves for Apache, this show not only showed the amazing dynamics of family but Will particularly showed us that there's nothing wrong with having a bit of fun!
The Famous Jett Jackson
The late Lee Thompson Young starred in the popular show "The Famous Jett Jackson." In the TV show, he starred as a young teen actor who played the role of a secret agent in a TV show called "Silverstone." The show lasted from 1998 to 2001 and spawned its own movie that appeared on Disney Channel in 2001. What more could you want from a TV show where both Britney Spears and Beyoncé made guest appearances?
Smart Guy
"Another slice of the life of Master TJ Henderson!" Tia and Tamera weren't the only Mowry's on TV in the 90s. Their younger brother, Tahj, starred in his own series "Smart Guy" for 3 seasons. The series was about a 10 year old genius who was in the 10th grade and went to the same high school as his older siblings. Yvette was always looking out for him while Marcus couldn't help but poke fun, and who could forget about the antics of Marcus's best friend, Mo? The show also featured his sisters, Tia and Tamera, as guest stars as well as Beyoncé, Gabrielle Union, Christopher "Kid" Reid, and Taraji P. Henson.
My Cousin Skeeter
Do you remember that puppet on Nickelodeon? I'm sure you do! "My Cousin Skeeter" was another popular show that only lasted three seasons. The show starred Robert Ri'chard who would go on to star as Arnez in the show "One on One" and Meagan Good. The story follows Bobby, played by Ri'chard, and how his life changes when his cousin Skeeter, comes to live with him. Although the audience can clearly see that Skeeter is a puppet, they never make any note of it in the show!
Moesha
Mo to the, E to the, Moesha! The pilot to "Moesha" was originally produced in 1995, but the show was finally picked up in 1996 and lasted 6 seasons. This show is what helped launch Brandy Norwood into fame along with her other cast mates like Countess Vaughn, Shar Jackson, and her brother, Ray J. Very popular with teens at the time, "Moesha" was a great show that dealt with the issues of a black teenager and her family.
Sister, Sister
Tia and Tamera Mowry rocked the TV screen during the 90s with their show "Sister, Sister." In the show, two twins separated at birth are reunited and end up living in the same house with their adoptive parents. Although the sisters had two completely different personalities, just like their parents, we see that this helped with their dynamic. Not only did this help launch the careers of the Mowry twins, but it also helped Marques Houston, who played their neighbor, Roger. The show lasted an impressive 6 seasons and is still on syndication on the Up! Network. 
Taina
I'm sure I'm not the only one who wanted "Taina" to last more than two seasons. The show first premiered in January 2001 starring Christina Vidal. She played a teenager at a Manhattan performing arts school that had dreams of being a singer and actress. Definitely going along with the popular music trend of that time, the show often included musical performances from her throughout the series.
The Proud Family
How could we ever forget the Proud family? The Disney Channel animated sitcom lasted 3 seasons and aired from 2001 to 2005. With actors and actresses like Kyla Pratt, Tommy Davidson, Jo Marie Payton, and Orlando Brown voicing the characters on the show, it's no wonder it was popular on the channel. The show followed Penny Proud and her life with her family and friends. And who could ever forget the name of some of her friends like Dijonay and LaCienega Boulevardez?!
Kenan & Kel
Who loves orange soda? Kel loves orange soda! Maybe one of the most popular TV shows of this time was Kenan and Kel. The duo got their start on "All That" in 1994 before getting their own show in 1996. The series followed two best friends as they got into constant mischief and mayhem. If watching them on "Kenan & Kel" wasn't enough, we also got to see them join forces for the "Good Burger" film, another sketch that they expanded from "All That." The show lasted for 4 seasons and definitely goes down as one of the best 90s shows of all time!
Now that we've shared some of our favorite 90s and early 00s shows with you, in the comments, let us know what shows you were watching!