90s Trends We're Rocking Today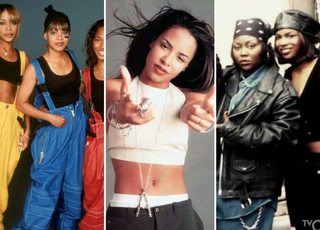 Y'all already know we may be a bit biased but, the 90s might go down as the best decade of all time. With this decade came influential celebrities, game-changing music, and televised and cinematic masterpieces. These all played a hand at making the 90s a great decade, but who could forget the dynamic fashion?
Stars like TLC, Xscape, and Aaliyah led the scene by always showing out in the decade's hottest trends. The 90s have been over for 18 years, and while the stars have fluttered in and out of the spotlight, the styles have made their way back into fashion. Here's a look at the 90s fashion trends we're still wearing in 2018.
OVERALLS
Overalls are one trend we can still get behind. While they were quickly thrown away at the turn of the century, they're slowly but surely making their way back into our closets.
In "The Fresh Prince of Bel-Air," Will Smith wore some of the most iconic looks ranging from overalls to neon windbreakers to crop tops. Master Will definitely mastered the cool and effortless look by undoing one strap of his overalls.
TLC led the way through music, but they were also making waves in the fashion world. Probably known to rock every 90s trend, T-Boz, Left Eye, and Chilli could constantly be seen rocking overalls but of the baggier persuasion.
Leather Jackets
In the 90s, it was all "leather" everything. You couldn't tell us nothing with a fitted leather jacket over a crop top and some denim jeans. Today, you can find many women rocking this same iconic style. From leather jackets, pants, skirts, if we can wear it, we'll take it in leather please!
Denim 
Whether you're calling them mom jeans, high wasted jeans, or boyfriend jeans, before the skinnies, there was 90s denim. The jeans of this era came in all the washes, were loose fitting, and easy to style. As the skinny jean trend took over, no one was checking for 90s denim anymore but, it's definitely making its comeback. I'll rock a pair of mom jeans of super tight skinnies any day!
CROP TOPS
The one trend that blew up and paved the way during the 90s was the crop top. Another trend that TLC was at the front of, they were joined by other celebrities like Mariah Carey and Nia Long. Perfectly matched, this is also around the same time that high waisted pants became a major trend.
Possibly as one of the biggest 90s trend to make its way back from extinction, it's only right to have at least one in your closet.
We're constantly recycling things from the 90s from samples of the music, reunions of the classic shows, or even sequels to our favorite movies. Whether it's here to stay or fizzles out towards the end of the year, 90s fashion is currently the hottest trend and we're making sure our closets are stocked with these styles.
If you're running low or need to restock, make sure you check out our must have collection of crop tops!