7 "Lemonade" Fashion Looks to Try this Halloween
October is the official start of the holiday season and first up is Halloween. This year, black women have given us more than enough inspiration to nail that perfect Halloween look. One woman in particular, Queen Bey, provided us with the masterpiece that is "Lemonade", which debuted back in April. On a cultural level, the visual album's themes, symbolism, and stunning imagery is a love letter to black women. It sparked many dialogues on the complex struggles on what it is like to be a black woman in America, as well as celebrating black artistry, history, and sisterhood. "Lemonade" also got everybody talking about Beyonce's incredible fashion taste!  With every theme came with Beyonce making a dramatic entrance in haute couture, she was slaying for days. Let's take a look at some of the best outfits you might want to try for a Lemonade inspired Halloween.
Southern Gothic/ Victorian Style
Set in New Orleans, Beyonce and her dancers (including a cameo of her daughter Blu Ivy!) are all dressed in white Victorian  garb-corsets, lace, and parasols. This is quite significant because the media does not show black women in this light, despite there being historical evidence of rich black people during the slave era. The southern gothic aesthetic is a consistent theme in the visual album. Grab a few of your girlfriends to make this look complete. 
Yellow Dress
Beyonce knows how to make an entrance and she did with the song "Hold Up". She flirts and destroys cars with baseball bat wearing a frilly canary yellow Roberto Cavalli dress. Pair a similar looking yellow dress with a baseball bat and there you go!
African Queen 
The last few minutes of the video for "Sorry", there is Queen Bey dancing and sitting on the floor very statuesque in a metallic cone bra designed by Zana Bayne. She looked like a goddess! The video for the song is filled with other references to African traditional art and voodoo. Focus on the hair, makeup, and accessories while finding a metallic dress for a warmer alternative. 
Fur Coat
One of her most popular looks is the long luxurious fur coat by In A Hood by Air and Yeezy's leggings and top coat. Grab a faux fur coat, cut up some cheap leggings, and cornrow your hair to get this look!
Red Wrap and Swimsuit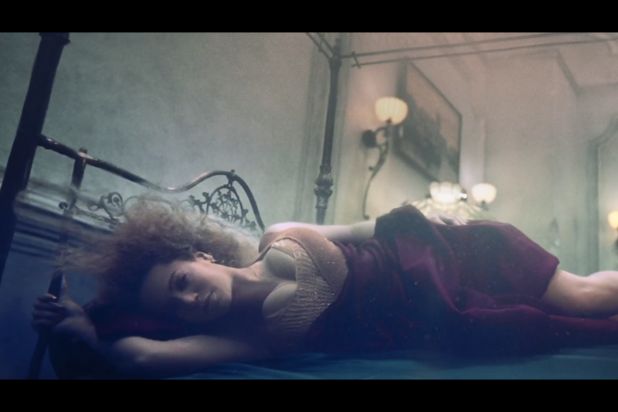 The opening sequence of "Hold Up" had Beyonce underwater in a swimsuit what is claimed to be by designer Norma Kamali. Only the real Lemonade fans will catch this one!
Red Dress & Mask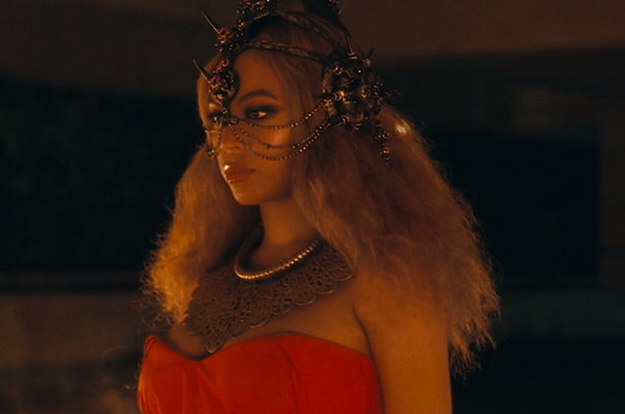 I don't remember if there was song attached to this look or if it's just another beautiful in-between scene but I do recall seeing the gorgeous headpiece Beyonce wore with just a simple red dress. It is from The House of Malakai. Bey looked FIERCE!
Black Girls Are Magic
Probably, the most iconic image of them all. Bey's center stage dressed in orange top by Rosie Assoulin and camo pants. She's surrounded by other black female artists such as Chloe X Halle and actresses Amandla Stenberg and Zendaya. It's the most casual but colorful look of all the styles in this work of art. This one is another great look to rock with friends. Yup, you can recreate the picture. It's only right!