6 Solo Travel Tips for the Wanderlusting Soul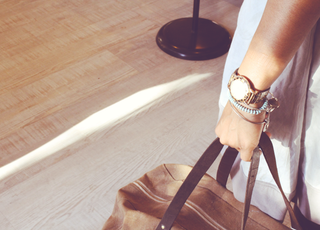 When we think of beautiful cities like Paris, Rome, and Venice, we often get wanderlust – the desire to travel. Planning a vacation isn't always the easiest, especially when you're making plans for a group. Sometimes the best way to travel is by yourself! Not only is this a great chance to know yourself, but who has time to skip out on French crepes because the group wants crème brûlée? While traveling solo might seem a bit daunting, here are a few tips to make the trip a bit more carefree!
Use a Secure Bag
One thing your bag should be when you travel alone is secure! As you're travelling and walking from site to site, the essentials that you're carrying are your lifeline. Your phone, ID, and cash aren't something you can survive without on a daily basis, so don't let it happen while you're travelling solo! Crossbody bags might be great for everyday life, but if you're travelling solo, definitely invest in a backpack! The closer the items are to you, the better!
When you're organizing your items in your bag, make sure that your essentials are readily accessible but also in the most secured part!
 Always Have Extra Cash
You should never be short on cash while you're traveling! Even in 2017, some places still don't except debit/credit cards, but you'll never go wrong with having cash! If you're traveling locally, it might be easy to stop at the nearest ATM or convenience store, but international travelers will have a harder time. Before heading across the world, be sure to find out the country's currency and get the proper bills! No one wants to have an excess of Euros when you need Pounds!
Pack (Some) Basic Clothing
One cliché phrase for travelers is to "expect the unexpected." The weather changes, flights change, and even circumstances change. When it comes to planning your wardrobe, go with the basics. Pack a few t-shirts (white, black, etc.) and 2-3 pairs of jeans. You won't have anyone to tell you whether you look good or not, but you can never go wrong with this simple look! The best thing about basic clothing is that you can easily interchange them and create an "entirely new" outfit.
Notify Your Bank
Have you ever gotten a notification from your bank saying they cancelled a transaction in Greece while you're sitting on your couch watching TV? If you were travelling in Greece, your card would get declined before you even got the e-mail! One thing you can never run out of while on vacation is money, and if your debit card gets temporarily flagged, you're pretty much out of luck! All you have to do is notify your bank of the places you'll be travelling! It doesn't even require a phone call because you can most likely do it on your bank's app!
 Let Your Friends (and Family) Find You
When movies like "Taken" exist, it pretty much shuts down the desire to travel alone, but there's a way to ease the mind! IPhone users are definitely lucky with this app called "Find Friends." All you have to do is add the friends or family you'd like to see your location. Once they open the app on their end, they'll be able to see where you are in the world. Whether you're relaxing in your hotel in Thailand or sightseeing around the Eiffel Tower, they'll find you!
Bring a Book
Deciding to travel alone means preparing yourself for meals by yourself! If you're comfortable with this kind of situation, kudos to you, but not everyone is ready for it! For those who are anxious about 'looking lonely,' bringing a book will definitely help you with this. For a few ideas, check out "5 Books by Black Prominent Authors We Should All Read." While you enjoy your meal, you can casually flip through a book you've been meaning to read. If reading doesn't seem like your thing, a simple "hello" can lead to international friends!
Traveling alone seems like something for the brave of heart, but we can all do it if we want! Going on an adventure and seeing what the world has to offer is something everyone should experience, and if you have to experience it alone, that creates the greatest opportunity to learn more about yourself!
In the comments, let us know where you would go if you were planning a solo trip!