5 Ways TLC's Music Empowered Women

The 90s had some of the greatest and iconic music by female artists who dominated the world with catchy beats, hip choreography and spreading messages of ultimate girl power.  While the pop world had the Spice Girls, the hip-hop/R&B scene had TLC.
Tionne "T-Boz" Watkins, Lisa "Left Eye" Lopes, and Rozonda "Chilli" Thomas created songs that were geared toward women. They were sultry, fun, and just down right in your face. Their trio addressed topics ranging from relationships, friendships, to female insecurities and everything in between. To this very day, years after the tragic passing of Left Eye, their music still resonates with women, particularly black women.
So here are just 5 ways TLC empowered all of us girls.
1. They reminded us to embrace our individual beauty
The graphic music video for "Unpretty" hit home to many of us who has ever dealt with body insecurities but it also taught us that your body is just as beautiful as anyone else's. The video follows Chilli looking into plastic surgery and a voluptuous woman battling a eating disorder after comparing her figure to supermodels . It's an examination of how women can be easily influenced to change their bodies due to the images we see in the media. Thankfully, it ends on a positive note by showing both women ceasing their obsession over trying to live up to the world's standard of beauty and start accepting themselves for who they are. We should too!
2.         They reminded you to never settle for less.
All together now- "no, I don't want no scrub.."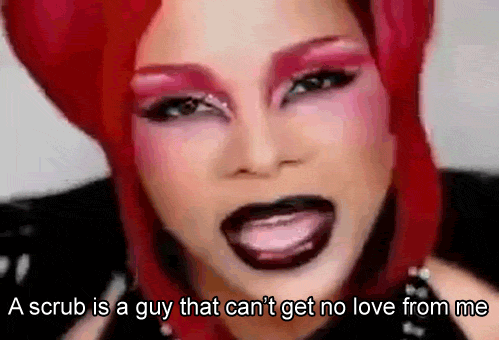 "No Scrubs" was the anthem no one could stop singing to and with good reason. It was the song that made every woman out there realize that you deserved the best partner to have a relationship with and not someone who treats you like you're not worth anything special. Need I say more?
3. TLC encouraged us to have strong friendships, especially with females One of the many aspects of TLC that I admired is they made me realize how important it is to form strong connections with others, especially with other women. There is nothing like having that sense of camaraderie and empowerment you get when you are with your closest girlfriends who have your back. However, "What About Your Friends" is a bouncy track that reminds us all to stick with the pals who've been with you from get go and not just be there when times are good. It's the ones who have been with you in your worse who are worth keeping.
4.         Told us to have no shame in going after what you want, just as long as you are safe.

TLC was all about confidence in and out of the bedroom. "I ain't too Proud to Beg" is a hilarious example of this is. They were not afraid of advocating for safe sex and demonstrated that women shouldn't be afraid of asking for it either.
5.         Showed that femininity is more than just looking pretty. It's also about inner strength.

TLC were not just this group of "crazysexycool" women who wanted to have a great time. These women displayed a raw sense of vulnerability in their music whenever life threw them curve balls. "Waterfalls" is a song reminding us to not live life on the fast lane in order to get what we desire. Meanwhile, "Turntables" pulls us out of our funk. Their music was full of life and promoted the message that  life was worth living for. What can be more empowering than that?