5 Reasons We Loved "Living Single"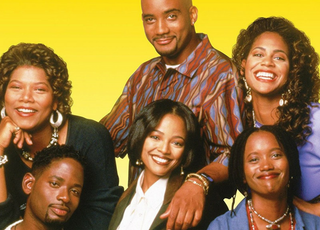 Check it out! Ch-Ch-Check it out! In case you've been living under a rock, Hulu is streaming all seasons of Living Single and we are hype! In honor of this epic event and to give you a reason to cancel your plans and binge watch a season or three this weekend, we're taking a trip down memory lane and sharing our love for all things Living Single.
It's a '90s kind of world. Again. Living Single, the entire series, streams January 11, only on Hulu. pic.twitter.com/yCaVxRzR31

— hulu (@hulu) January 10, 2018
1. The guest appearances. I mean, it was a show starring the Queen of hip hop. People were honored to have a moment in her presence. Okay I might be biased but I mean, the celeb appearances were epic. From basketball players, black actors and actresses, and hip hop stars, you never knew who might show up in an episode. Black excellence for days.
2. Synclaire and Overton's Black Love. It was our version of Cliff and Claire. The kind of black love we could relate to as twenty somethings figuring out life together. While Synclaire was kinda quirky, she found her perfect match in the equally nerdy Overton. Giving us all some hope that there's someone out there us.
3. Maxine and Kyle's…situationship. Maxine was the original boss woman who did not have time for no man and his shenanigans. Her and Kyle's relationship played out over the seasons from flirtations, to distant lovers, to full blown relationship, to scorn, and everything in between. No matter what they were going through though, we were all secretly rooting for this couple to win. And did we mention, they just looked so dang good together. Dripping melanin and kinky hair.
4. Khadijah's bomb career goals. Magazine editor in Brooklyn living in a brownstone? Yes, please. Flavor magazine is something I wish we could have had in real life (editors, where y'all at?) but I digress. As a creative and writer, I can wholeheartedly appreciate Khadijah's grind and mission for success while juggling real life. Sans Brooklyn brownstone but you feel me.
5. The original bad and bougie Regine. We all have the diva friend (you know the one with the champagne taste but cheap wine budget. No judgment here!) but they're so committed to their lifestyle we can't do nothing but support. Whether it was her fashion business or her hunt for a rich husband, we were here for Regine, rooting for her to live her most fabulous life.
We are livinggg singleee, ohh in a 90's kind of world. I'm glad I got my girl! Okay, y'all I gotta go. Hulu is calling my name.